Five Astros Named to 2018 AL All-Star Team
HOUSTON, TX - Major League Baseball announced tonight that five members of the Houston Astros will be a part of the 2018 American League All-Star team.
Leading the way is Jose Altuve, who became the first Astros player ever to be the leading All-Star vote-getter. This will mark his fourth consecutive fan-elected start and sixth overall All-Star selection. He will be joined by Alex Bregman and George Springer, both of whom made the squad via the Player Ballot, and pitchers Gerrit Cole and Justin Verlander, who were named via a combination of the Player Ballot and the MLB Office of the Commissioner. Altuve will be just the second Astros player to start four All-Star games, joining Hall of Famer Craig Biggio, who started four straight for the NL squad from 1995-98 (all at second base).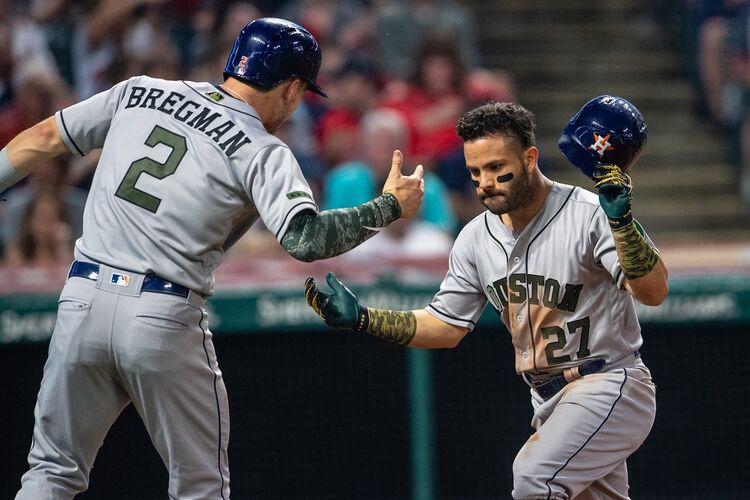 This marks the third time that the Astros have had five or more All-Stars on one squad. They had a club-record six All-Stars in 2017 and five in 1994. Houston's five All-Stars in 2018 are tied for tops among all AL clubs (CLE and BOS).
Bregman, who was the AL Player of the Month for June, is the sole first-time All-Star for the Astros this year. Both Cole (2015) and Springer (2017) will be making their second appearances in the Midsummer Classic. This will be the seventh time that Verlander has been named an All-Star, and his first time as an Astro. Prior to this season, he was an All-Star in 2007, and each year between 2009-13.
Astros Manager AJ Hinch will become just the second skipper in franchise history to manage an All-Star Game, joining Phil Garner, who guided the 2006 NL All-Star team. Hinch will be joined by his entire 2018 coaching staff, as well as Rich Dauer, who served as the Astros first base coach from 2015-17 before retiring.
The 89th MLB All-Star Game will be played on Tuesday, July 17 at Nationals Park in Washington, DC.