Carlos Watkins Joins Familiar Faces with the Houston Texans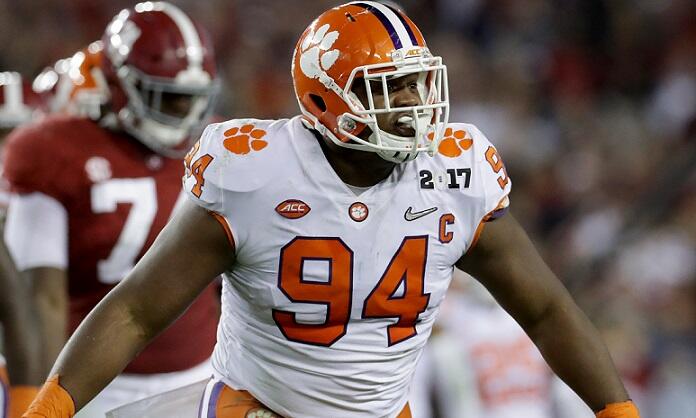 Carlos Watkins Joins Familiar Faces with the Houston Texans
PATRICK STARR
Carlos Watkins is excited about joining some familiar faces with the Houston Texans.
The Houston Texans continue to infuse their team with productive players from the college ranks and added their third Clemson Tiger player over the past three drafts to the roster. The Texans selected Carlos Watkins in the fourth round, reuniting him with former Tiger lineman D.J. Reader and making Watkins the second Tiger of the Texans 2017 draft class, joining Deshaun Watson. Wide receiver DeAndre Hopkins is also a Clemson alum, giving the Texans the most Tigers on one team in the NFL.
"That's Clemson. Coach (Dabo) Swinney did a great job of not only preparing us to become better football players, but mentoring us young to becoming a great pro." Watkins said of his school, "We have all the qualities and what it takes to be a pro. That's the kind of school that Clemson is, that builds us to be great young men and professional athletes."
The Texans started their work early during the season and were keeping a close eye on Watkins and, when they had an opportunity to lock him in with their second selection in the fourth round, they pulled the trigger.
"It's really a blessing," Watkins said of being reunited with Watson and Reader in Houston. "These past few years getting to play with those guys – Deshaun has been a great player, the leader he is, and D.J. being the big bro, guided me along this last year. Getting to play with him again, it's really a blessing. I think we can do a lot of great things."
Watkins had an inkling that he could end up in Houston. The team brought him in for a pre-draft visit and held a meeting with him at the NFL Combine. The Texans also attended his pro-day at Clemson to complete to entire picture on what Watkins is made of.
"When I got the call, it just really made everything better," Watkins said of draft day.
With Vince Wilfork heading to retirement and Reader set to move into the starting nose tackle role, Watkins has a chance to come in and help right away in the defensive line rotation.
Bill O'Brien envisions a role for Watkins in the Texans defense and is depending on Anthony Weaver to help bring him along early in 2017.
"This guy is a guy that we feel can come in here with a lot of hard work and good coaching here, can fill a couple of different roles for us," O'Brien explained. "He can play on the inside in a couple of different of packages for us."
"When you look at his history, from a production standpoint, you talk about a guy who makes plays behind the line of scrimmage," general manager Rick Smith said of Watkins. "He has double digits in hurries and sacks and tackles for losses, he plays big in big games and we like that about him. "
Watkins set a school record, posting 10.5 sacks from the interior of the Tigers defense in 2016 breaking a school record previously held by Jim Stuckey, William "The Refrigerator" Perry, and Michael Dean Perry.

Koch and Kalu
"In The Trenches" airs daily from 10a-12p on SportsTalk790 (790 AM and 94.5-2 HD)
Read more