Duane Brown Has a Decision to Make Heading into Mandatory Mini-Camp
The Houston Texans are on the final stretch of work during the spring before heading into an extended break and then training camp in late July. Mandatory mini-camp starts on Tuesday and runs three days. It is an extension of the effort put in during OTAs. The work will remain the same and the coaching staff will cram as much as they can during the next three days to have the foundation of all three phases in place before camp hits.
One of the stories that has not been discussed at length this off-season is the disappearing act of Duane Brown. Bill O'Brien made it clear early in OTAs that he did not have much to say regarding Brown's absence but now with Brown not attending any of the OTAs, the Texans are in position to use the CBA to their advantage to see how serious Brown is about his holdout.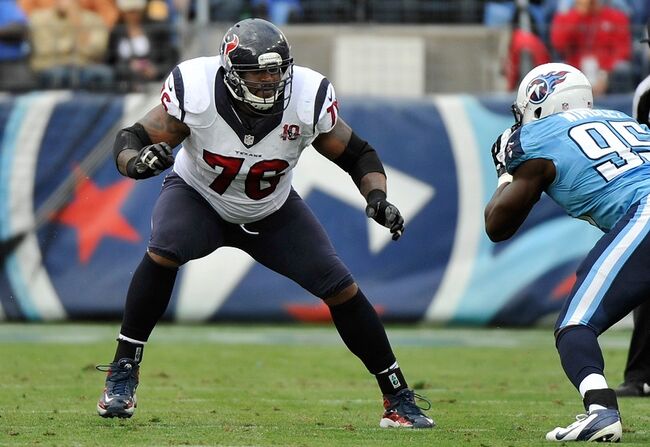 The Collective Bargaining Agreement (CBA) allows NFL teams to fine players who do not participate in the mandatory work of the off-season. The total monetary cost for missing all three days is $80,405, with a $13,400 fine for the first day, a $26,800 fine for day two, and a $40,205 fine for the final day.
The Texans have played hard ball when it comes to missing mandatory work in the past. The most recent example was when Andre Johnson held out of all the OTAs work during 2014. The team kept his $1 million workout bonus plus fined him close to $6ok for missing mini-camp.
Brown's stance is understood (Read Here), especially with the type of money that was handed out to lesser talent at the offensive tackle position this past free agency period, not to mention he is entering the final two seasons of his contract, which has zero guaranteed money attached to it.
With the Texans able to fine Brown accordingly, it will be interesting to see if $80k+ is enough to make him budge and head back to the team. The key target date remains training camp. Not showing up to training camp when it opens up results in a $40k fine per day.
OTAs was voluntary and the Texans made it work with a rotation at the offensive tackles, moving Chris Clark, Kendall Lamm, David Quessenberry, Julien Davenport, and Laurence Gibson around those spots. The group, as we know, is much better with Brown in the mix. He found the right time to make his point, showing the team that his value is more than what the team is paying him.
The Brown contract situation remains the only real story heading into mini-camp and we will see whether he will show or not.

Koch and Kalu
"In The Trenches" airs daily from 10a-12p on SportsTalk790 (790 AM and 94.5-2 HD)
Read more