Houston Texans Drop the Kansas City Chiefs in Preseason Opener
The Houston Texans beat the Kansas City Chiefs 17-10 to open up their preseason schedule. After 60 minutes of play, here are some early thoughts on the Texans after their win.
Had to like…..
Jordan Akins had two receptions for 20 yards and town touchdowns, one on and out route for 6 yards and another on a deep cross for 14 yards. The rookie showed why O'Brien liked him at the Senior Bowl with his ability to run routes and catch the football.
What rookie edge player Duke Ejiofor did to Chiefs starting right tackle Mitchell Schwartz when he lined up against him. Ejiofor in three consecutive plays produced a hurry that produced a sack for Angelo Blackson and three quarterback hits on Patrick Mahomes. He was able to show his dip and rip and spin move to produce the quarterback hits. For a rookie, Ejiofor only helped his cause to show he can help off the edge against top end NFL competition.
Dylan Cole was able to cut loose on the field and make plays in both the run and pass coverage game. Cole showed his sideline to sideline ability and was able to get 3 total tackles with his defensive work. Teamed with Benardrick McKinney and Zach Cunningham, the Texans have a good mix of inside linebackers.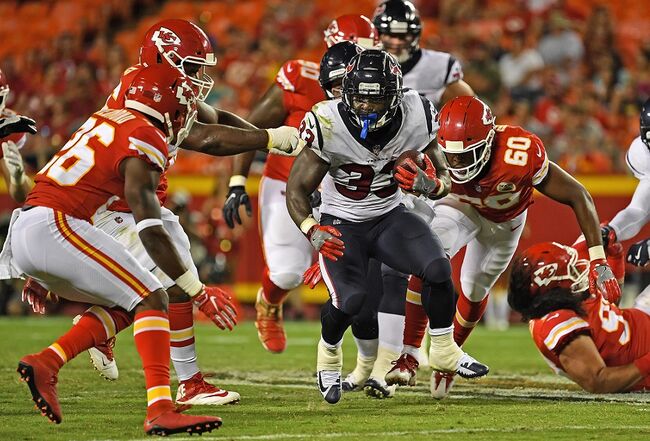 Interested in how…..
Joe Webb finds himself fitting into the roster equation quite well as the preseason moves forward. Webb played at quarterback, going 6-of-13 for 56 yards and also showed his scrambling ability by putting up 40 yards on 3 scrambles. Webb also worked special teams on kickoff return and coverage as he has done prior to landing with the Texans. If Webb can continue to produce on special teams, there is no reason to think he can't push for a roster spot when all is said and done.
Also, the work Troymaine Pope was able to put together, especially in the passing game, catching 3 passes for 47 yards, was notable. He was also able to break a 34-yard screen pass to set up a touchdown in the 2nd quarter. With D'Onta Foreman on the PUP list, Pope will continue to get looks as long as he continues to produce.
Needs work…..
Cornerback Dee Virgin is getting a shot to make the team as a depth player behind the primary defenders. Virgin was able to make some plays on special teams but on defense, he struggled often. Missed tackles, a pass interference in the end zone, and giving up a 24-yard touchdown added up to a bad night for Virgin. He will have work to do to erase this game from the coaching staff's memory.
Seantreal Henderson has not played a full season since his rookie year and it showed as he worked to shake off a little rust on the field. Henderson started at right tackle but his pass protection is what really needs the most work although he did show that he can move the line of scrimmage in the running game. Henderson will be a player to watch moving forward, especially with an offensive line unit that needs to gel quickly before the start of week one.
The emergence of rookies Jordan Akins and Jordan Thomas has tight end Stephen Anderson on the outside looking in. Anderson dropped a well-placed ball from Webb that would have set up the Texans inside the 5-yard line. With roster spots at a premium, Anderson is going to have to produce a flawless camp and preseason to make the 53-man roster.
Hit of the Night
Yes, the ball was completed but inside linebacker Josh Keyes reminded us how fun football can be.

Koch and Kalu
"In The Trenches" airs daily from 10a-12p on SportsTalk790 (790 AM and 94.5-2 HD)
Read more