10 Players That Will Decide the Astros and Indians ALDS
We have been talking about it for weeks now, but we can finally say for sure that the Astros will be taking on the Cleveland Indians in the ALDS, as they look to make it back-to-back World Series titles. So with the matchup locked in, it's time to start diving into what this series could look like and some of the questions surrounding it. This series will feature no lack of star power. The question is, who are the most important players that will decide who advances to the ALCS.
1. Astros SP Justin Verlander When we rank who is the most important player in any given series, it is hard for me to think of any series where Verlander is not the most important player in that series. We know just how incredibly filthy and important he was to the Astros winning it all last season, and how important he has been for them this season. He is the ace of all aces that will pitch in the 2018 MLB Postseason. When he takes the mound, you expect to walk away with a victory. His overall career numbers against Cleveland are actually not as great as you would think. He of course has faced them a bunch, having played nearly all of his career in the AL Central with the Tigers.
Career Regular Season Stats vs. Cleveland:
Starts: 52 (3 career complete games)
W-L: 20-24
ERA: 4.71
The good news, the Indians did not see him this season and we know that when it comes postseason time, you can throw career stats for a player against a particular team out the window. If Verlander is Verlander, the Astros should find themselves two wins away from advancing after the first game of the series.
2. Indians SP Corey Kluber Kluber, like Verlander, is as good as it gets on the bump for any team that will participate in the 2018 MLB Postseason. For the Indians to advance to the ALCS, they need him to be the Klubot that has won two AL Cy Young awards since 2014, and not the Klubot that pitched for them in the 2017 postseason.
His numbers have been incredible again this season and he is without a doubt one of the top five candidates to take home the AL Cy Young award again this season. Despite having another incredible season, there are some things that should worry Indians fans as they head into this ALDS against the Astros...and those are strikeouts and home runs. Kluber has seen his home run rate go up again this season, allowing a career high 25 in 2018, while his strikeout rate has ticked down. While his strikeout numbers are still really really good, his 9.3 strikeouts per 9 innings is his lowest rate since the 2013 season. The Astros are a team that does not strikeout a ton, and if he's prone to the long ball again this postseason, the Indians are going to have a tough time getting past the defending champs.
Career Regular Season Stats:
Starts: 9 (1 Career Appearance in Relief)
W-L: 6-3
ERA: 2.83
2018 Regular Stats vs. Astros:
Starts: 2
W-L: 1-0
ERA: 1.35
3. Astros 3B Alex Bregman A lock to finish top 5 in the AL MVP vote, Bregman has become the monster he has always expected himself to be. He has without a doubt been the Astros best position player this season, and they have to have him be just that in this ALDS matchup. We know that there is no moment too big for him, whether that's at the plate or in the field, and it would be surprise to me if he does not come through once again in big spots for the Astros this postseason.
Career Regular Season Stats vs. Indians:
G: 17
BA: .254 (18-71)
HR: 4
RBI: 13
OBP: .312
SLG: .549
OPS: .861
2018 Regular Season Stats vs. Indians:
G: 7
BA: .258 (8-31)
HR: 2
RBI: 5
OBP: .343
SLG: .516
OPS: .859
4. Indians SS Francisco Lindor As dynamic as it gets in baseball both at the plate and in the field, the Astros will have their hands full when it comes to containing the 24 year old shortstop. An American League All-Star for the third straight year in 2018, Lindor has put up another monster year, mashing a career high 36 home runs so far. A threat from both sides of the plate and in the field, his career numbers against Astros pitching are not very good. Cleveland will need the opposite of those numbers out of him to win this series.
Career Stats vs. Astros:
G: 24
BA: .210 (21-100)
HR: 2
RBI: 9
OBP: .269
SLG: .320
OPS: .589
2018 Regular Season Stats vs. Astros:
G: 7
BA: .097 (3-31)
HR: 0
RBI: 1
OBP: .152
SLG: .129
OPS: .281
5. Astros 2B Jose Altuve The 2017 AL MVP has not been exactly the same player he was a year ago, but that won't fool anyone, as we all know he is still just as dangerous as anyone at the plate in the game today. His ability to just get hits and go on insane hot streaks might make him the x-factor or all x-factors in this series. He spent time on the disabled list for the first time in his career this season, and that nagging knee will be in Astros fans minds the rest of the season. It's hard to believe, but Altuve's has not hit .300 or better in a month since June and is in danger of not hitting better than .250 in the month of September. Despite his non-typical production over the last few months, Altuve, like Alex Bregman, has shown that no moment is too big for him. And if he hits anywhere close to the level he did in the regular season versus Cleveland this year, Indians fans will probably lose some sleep over the thought of watching him play against them in the postseason.
Here's to hoping Altuve gets stupid like he did earlier this year in Cleveland when he collected a hit in 10 straight at-bats.
Career Regular Season Stats vs. Indians:
G: 43
BA: .295 (51-173)
HR: 3
RBI: 19
OBP: .328
SLG: .439
OPS: .767
2018 Regular Season Stats vs. Indians:
G: 7
BA: .469 (15-32)
HR: 1
RBI: 6
OBP: .469
SLG: .750
OPS: 1.219
6. Astros SP Gerrit Cole The Cole Train left the station in a big way for the Astros in 2018. Always viewed as one of the best in the game, he was out to prove that his 2017 season with the Pirates was a fluke, and he has done just that. Battling with his teammate, Justin Verlander, Cole has been one of the best strikeout artists in the game in 2018, punching out a career high 272 with still one start left to make.
While his overall season has been incredible, his second half has not been as dazzling as the first half was. In his last start, he worked 7 innings or more for the first time since August 10th. While the Astros have the benefit of a really good bullpen to backup a starter not going deep, it's hard to imagine the Astros losing many postseason games if Cole backup a strong start from Verlander in game one.
Career Regular Season Stats vs. Indians:
Starts: 2
W-L: 1-0
ERA: 3.60
2018 Regular Season Stats vs. Indians:
Starts: 1
W-L: 0-0
ERA: 3.60
7. Indians 3B/2B Jose Ramirez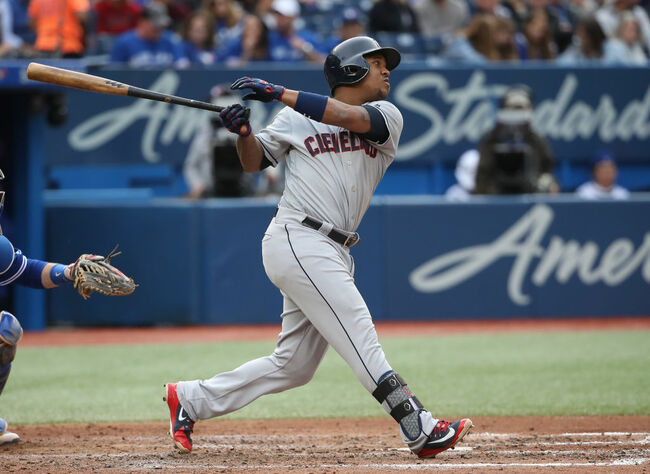 Viewed as one of the front runners for the AL MVP throughout the majority of the regular season, Ramirez heads to the postseason in a funk. That funk however cannot be expected to continue. The track record tells you he is a monster and when he's really going, he is as good as anyone at the plate in the entire league. An extra base machine that hits well from both sides of the plate, he has set a new career high for home runs this season while becoming a more disciplined hitter, drawing over 100 walks this season while he once again strikeout fewer than 100 times this season. He knows the strike zone and pitchers do not typically get away with mistake pitches to this monster.
With the addition and hope that Josh Donaldson is healthy and good enough to play third everyday, Ramirez has been pushed over to second base, moving their normal second sacker, Jason Kipnis, to center. You have to hope he does not break out of his funk in time for the postseason and that he continues to struggle like he has in the second half of the season where he has hit just .224 since the break and just .178 in September.
Career Stats vs. Astros:
G: 32
BA: .306 (33-108)
HR: 2
RBI: 9
OBP: .359
SLG: .472
OPS: .831
2018 Regular Season Stats vs. Astros:
G: 7
BA: .259 (7-27)
HR: 1
RBI: 4
OBP: .355
SLG: .481
OPS: .836
8. Astros RP Ryan Pressly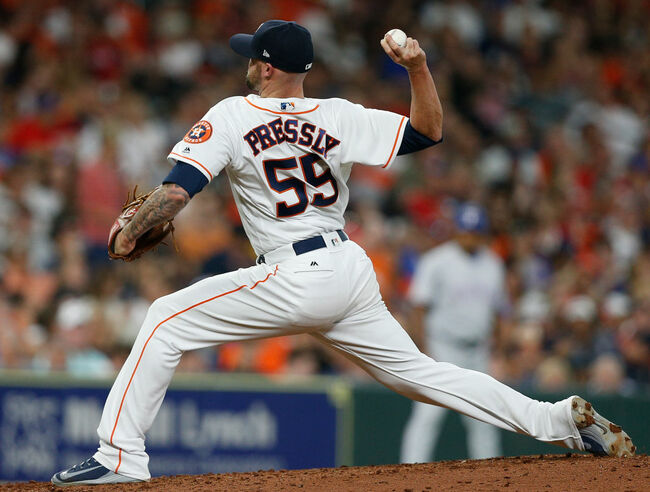 While you can clearly make the case that there should be three other relievers listed before you get to Pressly (Roberto Osuna, Andrew Miller, Brad Hand), Pressly might play the most important role of any pitcher coming out of either teams pen in the series.
Since the Astros picked him up in the deadline deal with the Twins, he has been incredible. As of this post he had pitched in 25 games for the Astros, posting an insanely good ERA of 0.81, giving up just two runs in his 22.1 innings pitched, striking out 30 while walking just 2. He's even picked up a save along the way.
He has been one of the best deadline trades of the 2018 season. With his incredible run since arriving Houston, he's the dude I want out of the pen in just about every tight spot. In a perfect world, the Astros only have to use him in the 8th inning to set things up for Osuna. With so much riding on every single out in the postseason, you have to think he's the first guy that gets the call out of the pen when the Astros find themselves in a sticky situation.
Career Regular Season Stats vs. Indians:
G: 27
IP: 30.2
W-L: 1-1
ERA: 5.28
SO: 19
BB: 14
2018 Regular Season Stats vs. Indians:
G: 4
IP: 4
W-L: 0-0
ERA: 5.28
SO: 5
BB: 1
9. Astros CF George Springer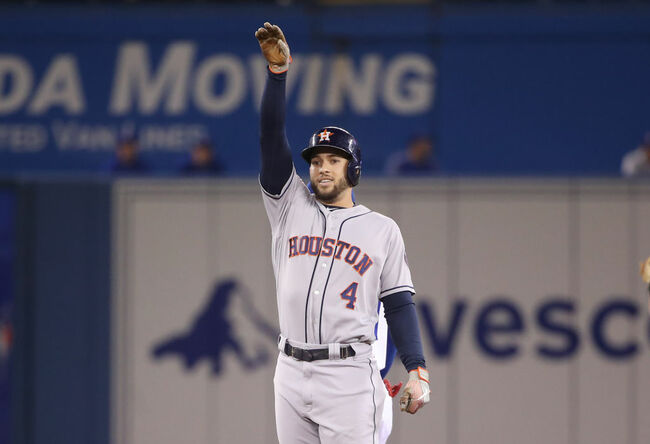 There might not be a player that can change a series more than George. We all witnessed that in the 2017 World Series where he mashed five bombs in the seven games as he took home the series MVP award. 2018 has not been incredible, or horrible for George. He's had plenty of spurts where he goes insanely hot and of course plenty of stretches where he goes ice cold. A lot of players can flip the switch on quickly, but there might not be a player on any team that can do it faster than George.
He's battled through being banged up a ton this season, and like most guys at this point of the season, he might not play any game the rest of the way feeling like he's 100%. The nagging thumb and shoulder have clearly been bothersome at times, but something has clicked over the last month and it might be possible that not being 100% has helped him at the plate. While the power has not been normal Springer power over the last month, the swing has looked vastly better. When he gets in his funks everything looks off balance. Over the past month, I think we have seen a much more balanced swing from George, with a stroke that is short and quick to the ball. I think we would all be down with George going all World Series George on the Indians in the ALDS.
Career Regular Season Stats vs. Indians:
G: 21
BA: .267 (20-75)
HR: 3
RBI: 7
OBP: .421
SLG: .480
OPS: .901
2018 Regular Season Stats vs. Indians:
G: 7
BA: .323 (10-31)
HR: 2
RBI: 5
OBP: .400
SLG: .613
OPS: 1.013
10. Indians SP Trevor Bauer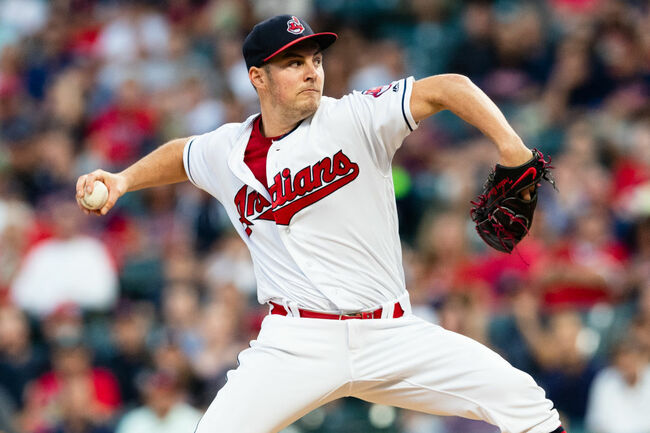 Bauer made a massive leap forward this year, reaching potential so many thought he had coming out of college. Having just returned from a lengthy DL stint, it is going to be interesting to see if the Indians decide if his best use for them in the postseason is as a starter or possibly as a weapon for an Indians bullpen that has plenty of question marks.
If he is completely ready to go and has no restrictions, he is the Indians second best starter and we all know how badly he wants to face his former college teammate, Gerrit Cole, in the second game of this series. He has one of the best curveballs in the game. And if he is on his game in the ALDS, his track record in the past against the Astros has been very very good. Maybe he will decide to play with a drone again and derail his postseason once again. You just never know with Tyler...I mean Trevor Bauer.
Career Regular Season Stats vs. Astros:
Starts: 8
W-L: 7-0
ERA: 3.18
2018 Regular Season Stats vs. Astros:
Starts: 1
W-L: 0-0
ERA: 4.91

Sean Salisbury
Sean Salisbury is a longtime sportscaster who has covered the Houston market for many years talking Texans, Astros, Rockets & much more. He has worked as an TV analyst for ESPN shows like NFL Live & SportsCenter, and served as both an NFL & CFL...
Read more