Why the Playoff Exit is Much Bigger than James Harden
It's easy to blame James Harden for the Rockets' disappointing postseason exit. But is it right?
I'm not so sure.
That's not to say Harden played well in the team's final two games, of course. He inexplicably slowed the pace to a crawl late in the fourth quarter and overtime of a pivotal Game 5 in San Antonio, and that was a big reason why Houston blew a 5-point lead with under 2:30 to go. And other than Clint Capela, the entire roster was lifeless in the ensuing Game 6 blowout — including Harden, whose 10 points (2-of-11 FG), seven assists, and six turnovers simply weren't good enough for an MVP candidate playing in an elimination game at home.
But the entire premise of disappointment after the second-round loss is built around the idea that the Rockets (55-27) and Spurs (61-21) were two NBA heavyweights trading blows. By record, these were the second- and third-best teams in the entire league in the regular season — and in that context, it seemed inexplicable for the Rockets to seemingly run out of steam. Upon further review, however, I'm wondering if the broader narrative was wrong altogether.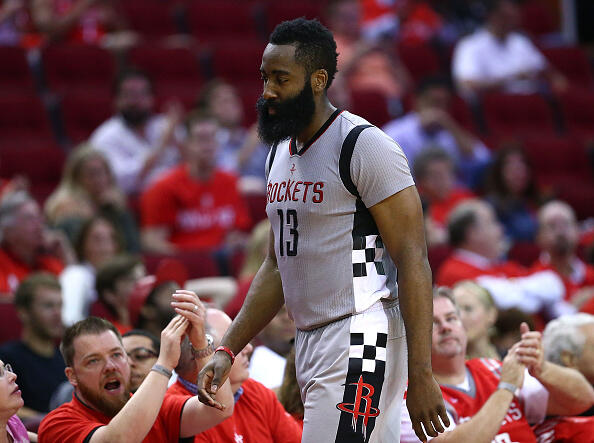 Not Elite Since January
The harsh reality is that the Rockets hadn't been consistently elite in months. They started the season 31-9 (.775) and on a pace to win 62+ games, a total that would rival San Antonio. After Pat Beverley's Nov. 17 return following a knee scope during training camp, the Rockets went 25-4 (.862) over the next 29 games, including winning streaks of 10 and nine. They never lost consecutive games. At the midpoint, the Rockets were one of the big boys alongside the Spurs and Warriors.
Then, for whatever reason, they weren't.
The Rockets went just 24-18 (.571) to close out the regular season, equivalent to a mere 47-win pace. For all the contrasts drawn between Harden and Oklahoma City's Russell Westbrook due to Houston's team success, it all traced back to the first half of the season. In the second half, the teams were virtually identical. Following the extended winning streaks of the first half, the Rockets never won more than four consecutive games the rest of the way. And after not losing consecutive games in the first 40, the Rockets dropped consecutive games on four separate occasions over the final 42.
There's also an argument to be made that perhaps coaches around the league, including San Antonio's Gregg Popovich, adjusted to Houston's unique style on offense the more they saw it. If that's the case, it's up to D'Antoni to adjust back and further diversify his attack.
Second-Half Struggles Evade Radar
Many of those items flew under the radar for a number of reasons. For starters, Houston never slipped in the standings. Even when they were great, the Rockets were No. 3 in the West because the two teams in front of them were that strong. And they had built up a large enough lead over the teams beneath them (Clippers, Jazz) that their 24-18 closing stretch didn't cost them. To casual fans, the slippage may not have been that evident, since the standings didn't change. And since the Rockets wildly overachieved relative to preseason expectations, many may not have cared, anyway. While diehard fans noted some concerns, many used minor injuries and a lack of motivation due to having a secure playoff spot as an excuse, in hopes that the "first half Rockets" would reappear when the stakes increased in the postseason.
But the Rockets themselves? They certainly noticed. They knew they were living partly on reputation. While they had occasional moments of brilliance, including Game 1 in the playoffs vs. the Spurs and Thunder, they never found the consistent form that they had in November, December, and early January when they were at their best. In 11 playoff games, they finished 6-5 (.545).
Step one is identifying the problem, which to their credit, D'Antoni and general manager Daryl Morey seem to have done. Step two is trying to fix it.
Need for a No. 2 Option
In terms of personnel, one thing that jumps out is the need for a consistent No. 2 scorer or playmaker behind Harden. When the Rockets were at their best, guard Eric Gordon was a legitimate All-Star candidate. Then, after Gordon transitioned from All-Star candidacy to subpar volume shooter, the Rockets dramatically fell off the pace:
The playoffs mirrored that trend, with Gordon's performance as the ultimate bellwether for Houston's result in a given game:
It's not all Gordon's fault, of course. He did miss time with injuries to his back, foot, and ankle, all of which may have contributed to a decline in his efficiency. But Gordon will be 29 years old next season with a lengthy injury history. Because of that, it's unrealistic to expect him to carry the burden of being a consistent No. 2 option over the full grind of an 82-game season. He can do it in spurts, and those hot streaks make him a very valuable long-term asset. But he should be the No. 3 or No. 4 option on a contender, rather than No. 2.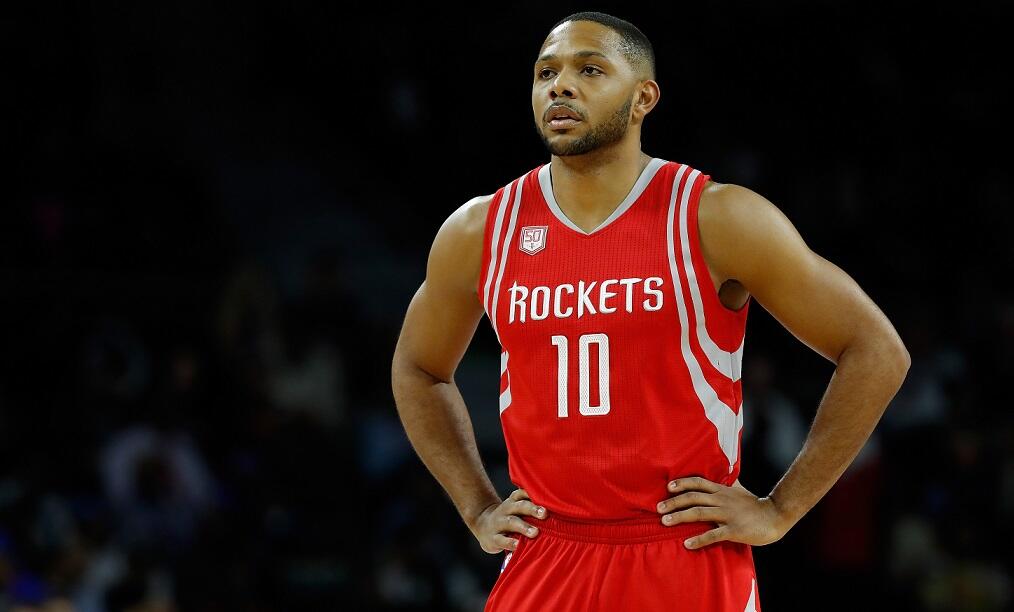 The upside is that once and for all, we found out this season that Harden could, in fact, play with another dynamic perimeter player. It's easy to forget now, but after the failed Ty Lawson experiment, many wondered if Harden could coexist with another perimeter option who needs the ball to succeed. To me, the success of Harden and Gordon this season proves that Harden absolutely can. It's just a matter of finding a more consistent option in that role. (Gordon Hayward on Line 1?)
The deadline trade for guard Lou Williams was supposed to relieve some of the pressure on Gordon, but for whatever reason, Williams never found the form here that he had with the Lakers, when he was a frontrunner alongside Gordon for the NBA's Sixth Man of the Year Award. After shooting 44.4% from the field and 38.5% from behind the arc with the Lakers, those numbers slipped to 38.6% and 31.8%, respectively, in Houston. Perhaps internal improvement from Williams, who as a midseason acquisition didn't have a training camp to adjust to D'Antoni's offense, can partially solve the issue. But it's on Morey and D'Antoni to figure out whether that is enough.
Trusting Young Players
Another possibility to explain the falloff comes in the presence of young players, or lack thereof. For the Spurs, young talents like Jonathon Simmons, Dejounte Murray, and Kyle Anderson all played legitimate minutes in the series win over Houston.
For the Rockets, when they were at their best in that 31-9 start, second-year forwards Sam Dekker and Montrezl Harrell played key roles. Dekker played in all 40 games, averaging 6.6 points and 4.1 rebounds, while Harrell played in 31 games with 9.6 points (66.5% FG) and 3.8 rebounds. Both averaged almost 19 minutes per game.
Dekker broke his hand in early April, and despite being cleared to return before the San Antonio series, he never fully regained a rotation role. Harrell, meanwhile, seemed to fall out of D'Antoni's rotation altogether after February for reasons unrelated to injury. Harrell didn't play at all in 12 of Houston's 21 regular-season games in March and April, and even after a season-ending injury to backup center Nene in Game 4 vs. San Antonio, Harrell still wasn't used in meaningful minutes. Some of what happened was outside of the Rockets' control, of course, like Dekker's injury. But the undisputable truth is that Houston had better team results when Dekker and Harrell played larger roles, thus lengthening the rotation. As such, their development is an obvious priority.
Should They Rest More?
Finally, there's the issue of rest. Harden (36.4 minutes, 81 games) and Trevor Ariza (34.7 minutes, 80 games) logged by far the most minutes on the team, and while their second-half declines weren't as staggering as Gordon's, there were clear signs of slippage.
Harden's assists dropped from 11.8 to 10.6, while his shooting percentages of 44.8% from the field and 35.4% from behind the arc slipped to 43.6% and 34.0%, respectively. In late March, Harden tried to play through a sprained left (shooting) wrist and shot 29.9% (16.1% from three) over three games. Not coincidentally, that stretch became Houston's only three-game losing streak of the season.
Meanwhile, Ariza dropped off from a 43.6% shooting percentage and 38.1% behind the arc in the first 40 games to 37.9% and 30.3%, respectively, over the final 42.
Perhaps appropriately, D'Antoni acknowledged after the San Antonio series that he was open to rethinking his rest policy — or lack thereof — next season.
The funny thing about all the criticism over "effort" late in the San Antonio series is that strong effort was the only reason the Rockets weren't eliminated earlier.
Before the Game 6 flop, Houston's defense actually ranked as the third-best in the playoffs. That's why they were able to eliminate Westbrook's Thunder in five games, despite shooting just 28% from behind the arc as a team. That's largely how they were able to battle the 61-win Spurs to a draw through the end of regulation in Game 5, including a nearly-six-minute stretch in the fourth quarter of Game 5 when the Spurs literally didn't score a single point. They wanted it and played very hard.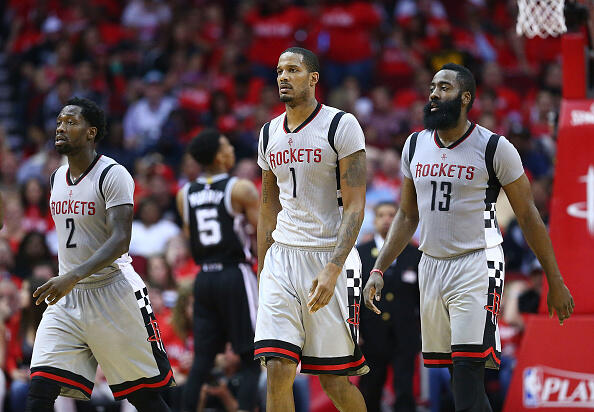 In the end, despite the popular narratives, Houston's undoing wasn't a shortcoming of leadership or desire. And it certainly wasn't Harden, whose season-long brilliance (29.1 points, 11.2 assists, 8.1 rebounds) is the biggest reason why the Rockets were so competitive in the first place. Their undoing was simply a lack of talent, depth, and execution in comparison to the 61-win Spurs, and many of the trends that led to Houston's demise were visible for weeks and months beforehand.
In other words, they just weren't good enough. With a pivotal offseason approaching in which the Rockets have all players but Nene under contract along with potential to create significant salary cap room, the process begins now for Morey and D'Antoni to determine how best to fix that.
For further updates, stay tuned throughout the offseason on your home for the Houston Rockets, SportsTalk790!

Talking Rockets w/ Ben DuBose
Want to know more about Ben DuBose? Get his official bio, social pages & articles on SportsTalk 790!
Read more