Growth of Capela, Gordon Could Give Rockets a Title Shot
It's easy to forget, but the current Golden State Warriors weren't supposed to be this good. The foundation of their first championship team in 2014-15 and the version that set the league's all-time wins record with 73 in 2015-16 was based on the No. 7 pick in 2009 (Stephen Curry), the No. 11 pick in 2011 (Klay Thompson), and even the No. 35 pick in 2012 (Draymond Green).
Though signing Kevin Durant in July 2016 secured them as the NBA's frontrunner for the foreseeable future, the foundation of a championship team was already in place — and it didn't come to be through a seismic free-agency or trade acquisition, such as LeBron James going to Miami or back to Cleveland, or even a top-5 draft choice from tanking. It simply came through internal growth and players like Curry, Thompson, and Green becoming much more than what most expected them to be.
It's still relatively early in the 2017-18 season, but there are signs emerging that a similar dynamic may be transpiring with Clint Capela and Eric Gordon here in Houston.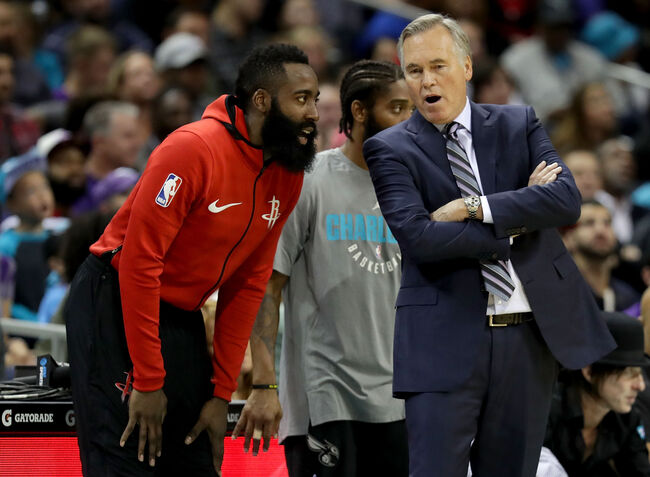 Harden, Paul Alone Not Enough
James Harden continues to lead the way for the Rockets (11-4), who trail the Warriors for the West's best record by only a half-game. But even Harden's MVP-level production, including averages of more than 30 points and 10 assists per game, isn't enough by itself to elevate the Rockets to the rank of serious contender alongside Golden State.
The looming return of Chris Paul may not be enough, either. Assuming his knee is finally healthy, the addition of Paul to Harden gives Houston a foundation of two of the NBA's 10 best players and perhaps its two best playmakers at the guard spots. In most years, that would be enough to guarantee title contention — if not make them the clear frontrunner.
Unfortunately for Houston, this isn't most seasons. With the Warriors in place, the bar for contention is historically high. While Harden and Paul might match Curry and Durant from the standpoint of having two elite, top-10 players, the Warriors also boast two- and three-time All-Stars in Green and Thompson.
The Rockets did bolster the depth and defensive versatility of their role players this offseason, adding P.J. Tucker, Luc Mbah a Moute, and Tarik Black to a veteran supporting cast that already included the likes of Trevor Ariza, Ryan Anderson, and Nene. But for the most part, those players are what they are. While all can play viable roles on a contender, none offer the upside of developing into the type of All-Star talent that could rival Golden State's foundation with Curry, Durant, Green, and Thompson. That's why the Rockets were aggressive in going after even more big names this summer after adding Paul, including their known pursuits of Paul George and Carmelo Anthony.
In both cases, the Rockets weren't able to close a deal. But it's important to note that while a splash external move is one route to closing the gap, it's not the only route. Just as the Warriors had Curry, Thompson, and Green ultimately develop ahead of their projections, internal growth could also occur in Houston — with Capela and Gordon as the most obvious candidates for such a jump.
Through 15 games, that's exactly what has happened. Advanced Metrics on Capela, Gordon
For Capela, making a case for "the leap" is easier. At 23 years old and entering his fourth NBA season, this is typically a point where prospects can see a significant increase in production. General manager Daryl Morey, in fact, said at the conclusion of last season that he believed Capela had All-Star potential.
His elite athleticism and work ethic were evident in his first three seasons, but questions surrounded his stamina, free-throw shooting, and defensive attributes — most notably, rim protection and avoiding fouls.
So far, improvement has occurred across the board in 2017-18. The topical numbers (13.1 points, 11.5 rebounds, 1.7 blocks, only 2.7 fouls in 26.1 minutes per game) are strong enough, but his efficiency is other-worldly. Capela is shooting 69.7% from the field and 69.2% from the foul line, and some of the league's most respected advanced metrics have shown him this week as a top-10 level contributor.
Besides noting the somewhat small sample, skeptics could point to the 26 minutes per game average and wonder whether that production would truly extrapolate if the Rockets need Capela to play 30+ minutes per game — as they likely would in a competitive playoff series.
But if you take a deeper look at the numbers, Capela has already shown some ability to play those types of minutes without wearing down. He went 31 and 32 minutes in both games in October against Philadelphia's Joel Embiid, and he lasted 31, 35, and 32 minutes in three consecutive games over a four-day stretch from last Thursday through Sunday.
It's not as if the numbers are skewed by favorable matchups, either. In Houston's first 15 games, Capela faced Marc Gasol three times and Embiid twice, along with individual games against Rudy Gobert, Dwight Howard, and Myles Turner. The Rockets need to see this level of production linger for a longer period of time, of course, but there's little at the moment to suggest it's a mirage. At the moment, Capela is truly one of the league's best big men. The case for Gordon is a bit more complex. At 28 years old and entering his 10th NBA season, he doesn't fit the typical profile of a player making "the leap." But his story includes some extenuating circumstances that might make him an exception to the general rule.
Gordon, of course, was considered a star at one point in his career. In the 2010-11 season, he averaged over 22 points and 4 assists per game with the Clippers and seemed destined to become one of the league's next superstar guards. As such, Gordon was a hot-enough prospect that he was the centerpiece of the return package in the first Chris Paul trade, which sent Paul from New Orleans to Los Angeles.
But a series of injuries took their toll over the next few years, to the point where Gordon was essentially a value signing for the Rockets (four years, $52 million) in July 2016 — deemed by many around the league to be merely a three-point specialist at this stage of his career.
In Houston, however, Gordon has seemingly regained much of his earlier athleticism. He averaged 17.9 points per game on 41% shooting from behind the arc in his first 40 games of last season, and in his start to 2017-18 (22.1 points, 3.0 assists per game in 33.3 minutes), he's become a more active defender and is attacking the rim substantially more often. The latter point is particularly evident in his free-throw attempts, which have surged from 2.3 per game last season to 5.7 per game this season.
As with Capela, advanced metrics paint an even rosier picture:
In both cases, while the sample is small, there's nothing to indicate either player's production is fraudulent. At the moment, the Rockets have two All-Star level contributors that aren't named Harden or Paul, and that's exactly what they need most if they want to seriously challenge the Warriors for a title this season. Outlook as Paul Returns
In the short-term, the biggest variable that could change the dynamics for either player is the imminent return of Paul. For Gordon in particular, this could alter his usage from the clear No. 2 ball-handling option behind only Harden to the No. 3 option. Adjustments will need to be made.
On the other hand, the integration of Paul — an all-time great point guard and distributor — might get even better looks and easier shots for both Gordon and Capela. In the case of Gordon, who seemed to wear down in the second half of the 2016-17 season, transitioning to slightly lower usage might also help him avoid similar fatigue issues in the back half of this current season.
Though the return of Paul is the most visible storyline for Rockets' fans, it's my belief that the evolution of Capela and Gordon continues to be the most important one. Even with Harden and Paul playing at peak levels, more elite talent is needed to match the diversity of Golden State's four-pronged attack.
Over the summer, many fans (myself included) thought this required adding either George or Anthony, or a similar external acquisition of that magnitude. As it turns out, the solutions may have already been here all along. If Capela and Gordon remain true All-Star level contributors, the playing field has been leveled — and the Rockets could have a legitimate shot at championship contention this season.
Listen to every game right here on SportsTalk 790, your home for live Houston Rockets basketball! For daily podcast recaps of each game, tune in to Locked on Rockets.

Talking Rockets w/ Ben DuBose
Want to know more about Ben DuBose? Get his official bio, social pages & articles on SportsTalk 790!
Read more