The Only Remaining Mystery of the 2018 MVP Award
The Most Valuable Player trophy has effectively belonged to James Harden since the end of January, when he returned from a Grade 2 hamstring injury to lead the Rockets (57-14) to a statement win over the vaunted Warriors (53-18). With Houston now 27-2 since Harden's return from injury and in prime position to secure the West's No. 1 seed, Harden is at long last poised to capture the elusive MVP trophy that he has come so close to winning in two of the past three seasons before ultimately finishing second. At this point, the only question is whether he will win it unanimously.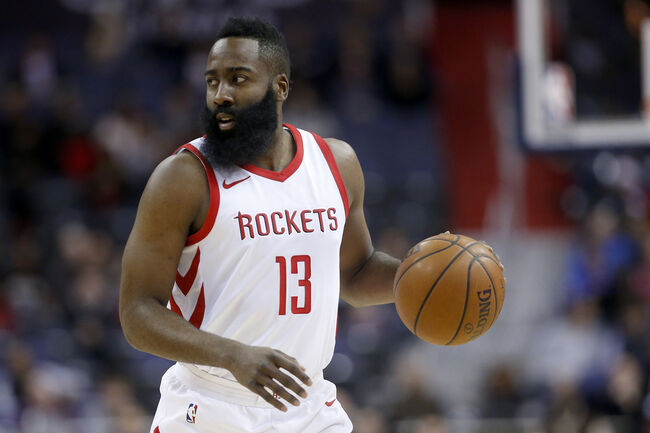 After Tuesday night's thrilling victory in Portland where Harden put up 42 points, 6 rebounds, and 7 assists on 52% from the field and 71% from behind the arc (including two dagger 3s), the only question is whether he has cemented himself as the unanimous MVP. At this point, the question must be asked.
In my opinion, there are several factors that lead to a unanimous MVP win. First, your team must be far and away the best in the regular season. Second, you must be the best player on that team and put up incredible numbers. Last but not least, you must be liked by the national media.
The only player to win MVP unanimously with 120 votes was Steph Curry in his record breaking 2015-2016 season. Both Michael Jordan and LeBron James were also very close to winning the MVP unanimously — especially LeBron, who missed it by ONE vote in 2012-13. For all intents and purposes, LeBron's MVP win should be considered unanimous, because the one vote that he did not get was given to Carmelo Anthony by a New York-based voter. So, let's take a look back at those two seasons and see where Harden stacks up against LeBron and Curry.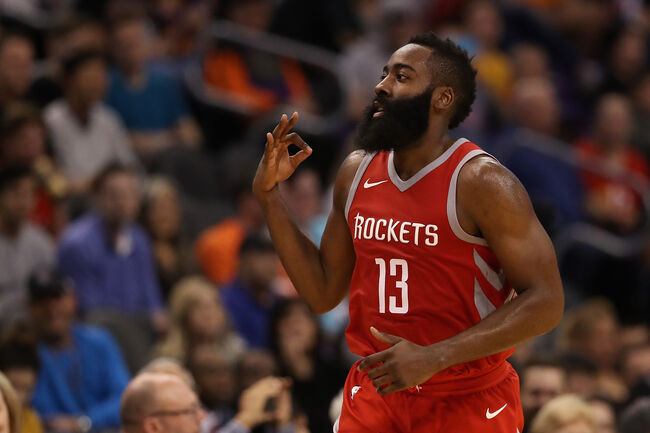 LeBron was otherworldly in the 2012-2013 season, as he led the Heat to a 66-16 record. That year he averaged 26.8 points, 8.0 rebounds, and 7.3 assists… all on a 64% true shooting percentage. He is the only player to ever put up those stats in one season. He also had a BPM (Box Plus/Minus) of 11.6, and he shot a career high 40.6% from three-point range. The one stretch that many will remember from his MVP year is that he is the only player to have 30 or more points on 60% shooting or better in six consecutive games. He was also No. 2 in Defensive Player of the Year voting behind Marc Gasol (another controversial vote). Have I mentioned that his team also won 27 games in a row? That streak is the second longest behind the Lakers' 33-game streak way back in the 1973-74 season.
In terms of all-around production, it was LeBron's best season ever. His quintessential MVP moment was when he dunked all over Jason Terry in Boston. That was one of the most disrespectful dunks in NBA history. You could instantly feel the shock and awe at TD Garden. Just like Harden this season, LeBron also had the MVP locked up by the end of January. Ultimately, LeBron's 2012-13 season will likely be remembered as one of the five best regular-season performances in NBA history.
For Curry, there were many analysts who doubted his team going into his 2015-16 season, due to their prior playoff run being made easier because of the injuries to all the point guards on the teams they faced. But Curry and the Warriors showed they were the real deal by winning their first 24 games of the year, annihilating the previous record held by the 1994-95 Rockets (who won their first 15). The Warriors went on to win an NBA-record 73 games. In that season, Curry averaged 30.1 points while making an NBA-record 402 threes, breaking his previous record of 286. His true shooting percentage was 66.9%, a number never-before reached. He also had a 50/40/90 year in terms of shooting percentages from the field, three-point range and the free-throw line, which only about 20 other players had ever done before in league history. All year long, he sliced up opponents, and no one could stop him. His MVP moment was the game in Oklahoma City where he hit the game-winning shot from just inside of halfcourt to secure a comeback win, along with hitting 12 three-pointers to tie a then-NBA record for threes in a game. While those Warriors did eventually lose to Cleveland in the NBA Finals, there is no denying that both Steph and Golden State had a regular season that will never be rivaled.
Like LeBron and Curry, Harden has had a masterful year in 2018. After a tough ending to the 2017 playoffs, Harden has silenced most of hits haters and has Houston on its way to the best regular season in franchise history. Along with wins, Harden is the only player in league history to average over 31 points, 5 rebounds, and 8.5 assists per game, all with a true shooting percentage of better than 62%. His BPM a career high (11.2) and his WS/48 (Win Shares per 48 minutes) is also at a career high of .302. His turnover percentage is also the lowest in his tenure with the Rockets, despite a career-high usage rate. Looking around the league, Harden is No. 1 in just about every category imaginable. He is also top 10 in steals and in both post and isolation defense.
Another impressive stat is that the Rockets have played the lowest clutch minutes in the league, yet still lead the league in positive point differential in clutch situations. Give credit to Chris Paul (and the rest of an excellent team) for that number, but when the Rockets are in a clutch situation, Harden is usually the one with the ball in his hands. Harden has had his most impactful year defensively, as well. The defensive numbers speak for themselves, but his activity on that end is the best in his career. When the game is on the line, you often see him defending the other team's best player, and more times than not they do not score on him. The only notable clutch shot I've seen made against him was by Toronto's Demar DeRozan, and even on that play, Harden was right in his face.
On the season as a whole, Harden has owned the "MVP moments." The 60-point triple double vs. Orlando, the step-back three over Curry before blocking him on the next possession, and even Tuesday night in Portland was scintillating when he put the team on his back in the final minutes. Overall, Harden has led the best regular season in Rockets' history, and there is little doubt that he will be named MVP.
Now, for the real question — will the vote be unanimous? It likely will not, but that's not really Harden's fault. Each night, Twitter is rife with complaints about his style of play, comments that he is soft, or that his play does not translate to the postseason As seen in years past, MVP voters include some who aren't fans of Harden going to the line nearly 10 times per game, with some of those trips courtesy of his quick upward movement catching a defender who reaches in. It is a narrative that Harden might never be able to shake. Just like Curry and LeBron, Harden should win the award unanimously, but most likely some voters will slight him for his style of play and issue a protest vote to someone like Anthony Davis or Damian Lillard.
If Harden does win it unanimously, it is because not only does everyone agree that he is the MVP, but also that voters recognize that no one in the league right now is at his level, or frankly anywhere close. As for Harden himself? He would likely say (and truthfully, for that matter) that the MVP award is a distant second priority to the Rockets' battle for the No. 1 seed and their attempt to dethrone the Warriors, possibly the most talented NBA team ever assembled. Let's hope Harden is as successful in accomplishing that goal as he has been in securing the MVP award.

Talking Rockets w/ Ben DuBose
Want to know more about Ben DuBose? Get his official bio, social pages & articles on SportsTalk 790!
Read more