Why Jimmy Butler May Be a Better Trade Target than Paul George
While the complete frenzy of free agency hasn't started yet, there have already been numerous rumors about certain teams pursuing certain players. For the Rockets, there has been relentless talk about their pursuit of potential free agents LeBron James and Paul George.
But one player who is not a free agent and is not garnering much attention — but perhaps should be in the discussion — is Minnesota swingman Jimmy Butler.
Butler, who is set to enter free agency in 2019, was recently referenced as a possibility for the Rockets by "cyberx," the legendary anonymous insider from the ClutchFans BBS. Deciding Between the Two
First and foremost, I think the Rockets should try to get LeBron at all costs before pursuing any other players. Having the best player since Michael Jordan on this Rockets team would almost ensure a championship, and likely more than one.
But if the Rockets had to choose between Paul George and Jimmy Butler, it may not be an automatic conclusion that George is the better option — especially given the likely price tag.
Offensive Fit
When you look at the bare numbers, George would most likely fit better with the Rockets' three-point centric offense because he shoots over 40% on three-pointers on nearly eight attempts per game. By contrast, Butler only attempted about three per game, and at only a 35% clip.
But despite the superficial analysis given by many commentators, the Rockets' offense is not predicated simply on three-pointers. With coach Mike D'Antoni's new isolation system, the Rockets always look for the best mismatch so players like Harden and Paul can get easy buckets. In isolation situations last year, Butler was more efficient than George (0.93 points per possession to 0.87), and he also shot 50% in isolations compared to George's 38%. Another thing to note is that Butler, in the right offense, could improve his shooting from three-point range if he attempts a higher volume of them.
Aside from isolation, it goes without saying that the Rockets run a lot of pick and rolls. Trading for either Butler or George almost certainly require the Rockets giving up Eric Gordon, which would leave a sizable hole in Houston for a third person to run the pick and roll.
In that capacity, Butler is more efficient as the pick-and-roll handler (43.9% scoring frequency compared to 41.1% for George), and he has a smaller turnover percentage as well. While George might be a better spot-up shooter than Butler, the latter may well provide a superior all-around offensive game.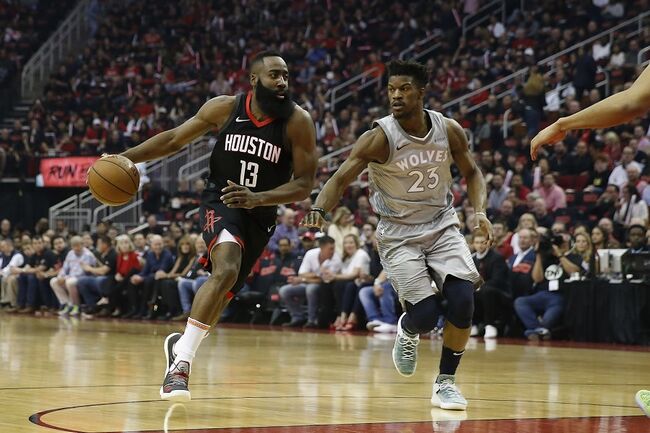 Defensive Fit
Both George and Butler are stellar defenders who can be counted on each and every night to do a very solid job at guarding the other team's best wing player. George's defensive rating is better, but that might be due to Butler playing on a team that has no defensive players or identity.
Even though George's name was thrown around in the Defensive Player of the Year discussion, the difference between the two players might be closer than you think. Before Andre Roberson was injured, the Thunder were one of the five best defenses in the league. But with Roberson out, Oklahoma City's defense became mediocre. And some of that falls on Paul George. When Roberson was not on the court with George, Roberson's defensive rating went up 8 points. While losing a great defender will hinder the entire team, George didn't seem to pick up the slack.
Another interesting note is that George's field-goal percentage allowed was at 49.3%, while Butler was at 44.1%. That number is interesting, because if you asked around, most people would say George is a superior defender. But while both are impressive, there's a case to prefer Butler guarding Kevin Durant over George.
Clutch Play
I think most will agree than Butler is a clutch player, especially in the playoffs. At times, George seems to have the attitude of a young James Harden, in that when his shot isn't falling, it impacts his defense.
For his career, in the fourth quarter or overtime with under a minute remaining on a potential go-ahead or tying shot, George is 7-of-60 (11.6%) from the field. By comparison, Butler has performed much better in those situations (21-of-57, 36.8%).
As far as the postseason, last year did not offer much hope about the self-proclaimed "Playoff P," as George was erratic in his performances on both sides of the ball in Oklahoma City's first-round series loss to the Utah Jazz. In that series, George was brilliant in Game 1 and Game 5… but in the other four games, he allowed Joe Ingles to get into his head and affect his game. In an elimination setting in Game 6, George scored just 5 points on 2-of-16 (12.5%) shooting.
Would the Rockets be a better team with Paul George? Absolutely. But is Paul George the only "3 and D" player potentially available by trade this offseason who could lift the Rockets to the next level? Definitely not.

Talking Rockets w/ Ben DuBose
Want to know more about Ben DuBose? Get his official bio, social pages & articles on SportsTalk 790!
Read more