Watt Recognized as One of Top Communication Stories of Year
The Leading Communications Firm Decker Communications Identifies Key Communication Lessons of the Year
The Power of One: JJ Watt's Appeal for Hurricane Help, August 27, 2017
A surprisingly important moment occurred the day after Hurricane Harvey landed on the Gulf Coast and wreaked havoc on Houston. NFL star JJ Watt of the Houston Texans made a fundraising appeal for $200K to help the communities and people of Houston rebuild and recover.
Little did he know that his video appeal on Twitter would multiply more than a hundred-fold - as of September, it was well over $37,000,000. Talk about inspiring your audience to action! A man of humble confidence, Watt didn't put himself in the front of his cause, but he positioned the people of Houston as most important to his heart.
So What: One person can make a difference – a big difference – when he or she is authentic and straightforward. Authentic appeals pack a punch. While it's easy to get hung up on which specific words to use, sometimes a less-scripted ask yields better results because it's more real. Plus, it helps to leverage the power of social media, and use it skillfully, to multiply the power of one into hundreds and thousands – even millions.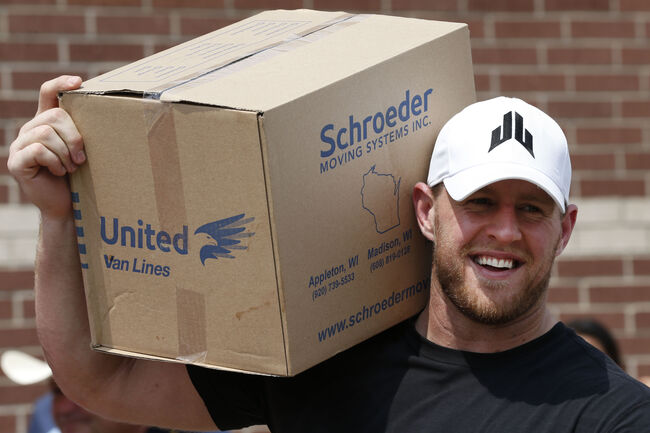 Here are the Top 10 Communication Moments of 2017:
1. The Power of Many: The #MeToo Moment, October 2017
2. The Power of One: JJ Watt's Appeal for Hurricane Help, August 27, 2017
3. Remembrance vs. Reverence: Monumental Differentiation of History from New Orleans Mayor Mitch Landrieu, May 19, 2017
4. Raise Your Glass: Pink's VMA Video Vanguard Acceptance Speech, August 27, 2017
5. A Whole New Medium: President Trump's First Tweet in Office, January 20, 2017
6. Going to the Next Level: Jimmy Kimmel's Personal Story and Plea, May 1, 2017
7. Championing Humble Confidence: Another Grand Slam Victory for Serena Williams, January 28, 2017
8. Life Happens: Professor Robert Kelly Interrupted Live on BBC, March 10, 2017
9. A Legacy of Likability: Eunice's Kennedy Shriver's Son Accepts Her Arthur Ashe Courage Award at the ESPYs, July 12, 2017
10. Adding to the Mess: United Airlines CEO Oscar Munoz Makes a Bad Situation Worse, April 11, 2017
To learn more communication lessons and see clips of the Top 10 Communication Moments of 2017, please visit http://decker.com/blog.

The Bottom Line with Jones & Braddock
Catch The Bottom Line with Jones & Braddock 3-6 p.m.weekdays on SportsTalk790 (790 AM and 99.1-2 HD)
Read more