James Harden Voted 2018 NBA All-Star Game Starter
HOUSTON – Tonight, the NBA announced that Houston Rockets guard James Harden was voted a starter for the 2018 NBA All-Star Game, which takes place in Los Angeles on Sunday, Feb. 18 at 7 p.m. CT on TNT. It is the second straight year Harden has been voted a starter. He also replaced Kobe Bryant in the starting lineup in both 2014 and 2015.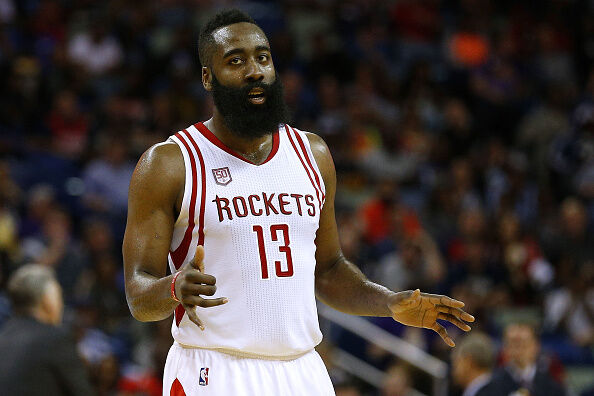 Fans accounted for 50 percent of the vote, while current players and a panel of basketball media accounted for 25 percent each. Harden finished first among Western Conference guards in voting by media, second by players, and third by fans.
Under a new All-Star Game format that replaces the traditional matchup between conferences, two captains will choose the rosters from the pool of players voted as starters and reserves. The captains are the leading vote-getter from each conference: Golden State's Stephen Curry from the West and Cleveland's LeBron James from the East.
Harden has been named an All-Star in each of his six seasons as a Rocket. He has the third-most All-Star selections in franchise history, trailing Hakeem Olajuwon (12 times) and Yao Ming (8 times).
This season, Harden leads the NBA in scoring with 32.3 points per game and ranks third in assists with 9.1 per game. He is on pace to break Moses Malone's franchise single season record of 31.1 ppg set in 1981-82. Harden had 51 points against both the L.A. Lakers on Dec. 20 and the L.A. Clippers on Dec. 22, becoming the first player to score 50-plus in consecutive games since Kobe Bryant rattled off four straight in March of 2007.
Harden scored 20-plus points in each of the first 35 games of the season, becoming the third player to accomplish that feat dating back to 1963-64. He also had at least 7 assists in each of the first 22 games, smashing the previous NBA record of 14 consecutive games with 20-plus points and 5-plus assists to open a season.
Despite missing the past seven games due to injury, Harden still ranks second in the NBA with 145 3-pointers made. He hit at least six 3-pointers in an NBA record five straight games from Nov. 1-11. No other player has a streak longer than three games in league history.
Since joining Houston in 2012-13, Harden has scored 1,041 more points than any other player while ranking fourth in both assists and steals.

The Bottom Line with Jones & Braddock
Catch The Bottom Line with Jones & Braddock 3-6 p.m.weekdays on SportsTalk790 (790 AM and 99.1-2 HD)
Read more