Rockets-Timberwolves Game 2 Tonight on 740AM
PLAYOFF GAME #2 • HOME GAME #2
MINNESOTA TIMBERWOLVES (0-1) vs. HOUSTON ROCKETS (1-0)
Wednesday, April 18, 2018 • Toyota Center • 8:30 p.m. CT
Rockets vs. Timberwolves:
The Rockets won Game 1 at home against the Timberwolves… regular season and playoffs combined, Houston has won 12 straight vs. Minnesota at Toyota Center.
Houston held Minnesota to 43.8% shooting from the floor in Game 1 after the Timberwolves shot 47.2% in the four regular season meetings.
James Harden shot 15-of-26 from the floor in Game 1 after shooting 38.5% in the four games vs. Minnesota during the regular season.
In the five games against the Timberwolves this season (regular season and playoffs), Clint Capela is averaging 19.8 points on 75.5% shooting.
Connections:
Rockets forward Luc Mbah a Moute played 55 games for Minnesota during the 2013-14 season… the only remaining player from that Wolves team is Gorgui Dieng.
Wolves center Cole Aldrich was part of the trade in which the Rockets acquired James Harden from Oklahoma City in 2012… Aldrich and Harden were teammates during Aldrich's first two NBA seasons with the Thunder.
Wolves head coach Tom Thibodeau was an assistant coach for the Rockets during Jeff Van Gundy's time as head coach from 2003-04 through 2006-07.
Wolves guard Aaron Brooks had two stints with the Rockets, appearing in a total of 297 games with 124 starts across parts of six seasons, while averaging 11.7 points and 3.3 assists.
Rockets player development coach John Lucas II is the father of Wolves player development coach John Lucas III.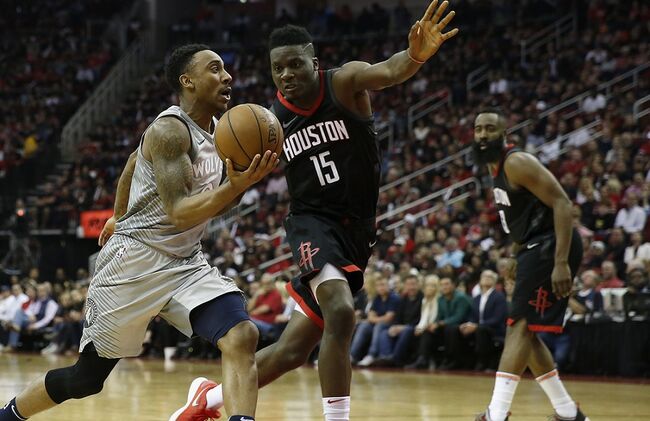 Injury/Status Report:
Rockets: Ryan Anderson (Questionable – Left Ankle Sprain); Luc Mbah a Moute (Out – Right Shoulder Dislocation)
Timberwolves: Justin Patton (Out – Sore Left Foot).
Rockets News & Notes:
Houston is looking to take a 2-0 lead in its best-of-seven series over Minnesota… in NBA history, a team has only overcome a 2-0 deficit in a best-of-seven series 19 times, including the Rockets in 1994 and 1995.
The Rockets had 11 turnovers in Game 1… Houston was 28-2 when having 12 or fewer turnovers during the regular season… the Rockets were tied for 11th in fewest turnovers committed this season (13.8 per) after finishing 26th in 2016-17 (15.1 per.).
Gerald Green had a playoff career-high tying 7 rebounds in 20 minutes off the bench in Game 1… he grabbed 7+ boards in three of the final nine games of the regular season after dong so once his first 32 games played.
Joe Johnson is playing in his 11th straight postseason and his 13th overall… he has the most playoff experience (113 games played) of any Rocket… Johnson is one of 13 players in NBA history with at least 20,000 points, 5,000 rebounds and 5,000 assists.
First Shot:
Tonight's First Shot will be taken by Olympic bobsledder Seun Adigun, who attended the University of Houston… she will attempt to make a free throw to earn $5,000 for charity… if Adigun misses the shot, owner Tilman J. Fertitta and the Rockets will still donate $1,000 as part of the team's commitment to give back to the community.

The Bottom Line with Jones & Braddock
Catch The Bottom Line with Jones & Braddock 3-6 p.m.weekdays on SportsTalk790 (790 AM and 99.1-2 HD)
Read more