Astros Begin 10-Game Homestand Tonight at MMP
HOUSTON, TX-- The Houston Astros, who enter the homestand with the best record (29-12) and winning percentage (.707) in Major League Baseball, return home for a 10-game homestand against the Cleveland Indians (May 19-21), Detroit Tigers (May 22-25) and Baltimore Orioles (May 26-28).
At 29-12, the Astros are off to their best 41-game start in franchise history, a full 2.0 games over their second-best start of 27-14 in 2015. The Astros lead the American League in several offensive categories, including hits and total bases, while ranking second in batting average and runs scored. The pitching staff leads the league in ERA, strikeouts and opponent batting average and have allowed the fewest runs. Through the first quarter of the season, the Astros have won 70% of their games, joining some select company, as three of the last four teams to do so went on to win the World Series in their respective years.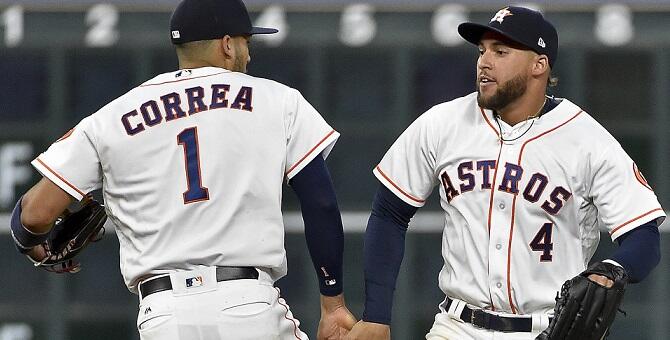 Friday, May 19 vs. Cleveland Indians - 7:10 p.m.
The homestand kicks off this Friday with Pinot in the Park, presented by Houston Methodist, for a night of baseball, wine and wellness. This sold-out event ticket package includes a ticket to the Friday's game versus the Cleveland Indians, a Pinot in the Park Cosmetic Bag, a wine passport which includes four (4) tastings and one (1) full glass of wine of your choice, food stations featuring healthy tips and wine pairing suggestions, a sommelier discussion, an exclusive Astros Fashion Show and 15% discount to the Astros team store for the duration of the event and access to Houston Methodist massage therapists. For more information, please visit www.astros.com/pinot.
Prior to Friday's matchup, 10,000 fans will receive an Astros Fedora, presented by Goya. Fans are encouraged to arrive at the ballpark early to receive any of this weekend's promotional giveaways, as supplies are limited and not guaranteed.
Tickets for the Astros Foundation's fifth annual Picnic In The Park fundraising event, presented by Pluckers, are now available for purchase. This year's event will take place on Sunday, June 11 following the Astros vs. LA Angels afternoon matchup. This popular fundraiser, which gives fans the rare opportunity to spend an afternoon on the outfield grass at Minute Maid Park, will feature 2017 Astros players, alumni and members of the Astros front office. All proceeds from the charitable event will benefit the Astros Foundation and its cornerstone youth baseball programs. Fans will be treated to a 45-minute autograph session with Astros players, a picnic buffet, activities for families and children of all ages and a complimentary picnic mat and commemorative T-shirt. For more information about Picnic In The Park or to purchase tickets, please visit www.astros.com/picnic.
Big and Bright Friday Nights begin with a special pregame Budweiser Happy Hour at the Budweiser Brew House, where fans can enjoy $6, 16oz Budweiser Signature Draft beer and food specials, a live DJ, corn hole, jenga and more from 5:00 – 6:30 p.m. before every Friday night home game.
Get ready to cheer on the Astros in the loudest and most energetic part of the ballpark for every Friday night home game in the 'StroZone! This Friday night, fans will receive an exclusive "Welcome to Woooston" Josh Reddick 'StroZone T-shirt and get to show their hometown pride by throwing their H's in the air with a custom H-Town foam hand. 'StroZone is sold out for this Friday, but tickets for future 'StroZone games start at just $30 and include a game ticket in the newly-renovated Mezzanine Level, a custom 'StroZone T-shirt unique every Friday and an "H's in the Air" foam hand. For more information, please visit www.astros.com/strozone.
To cap off Big and Bright Friday Night, fans are invited to stay after the game for Friday Night Fireworks, presented by Occidental Petroleum. This Friday's theme is Ladies Night with music by female country artists. Upon conclusion of Friday's game and prior to the start of Friday Night Fireworks, fans will be asked to move from the following sections for their safety and enjoyment: Home Run Alley, Escalator Tower Stairs in Center Field, Budweiser Brew House Tiers, Budweiser Batter's Eye Bar, Torchy's Deck, Crawford Boxes and sections 100-109, 205-208, 305-309 and 405-409.
Gates will open two hours prior to game time on Friday and Saturday, and at the special time of 11:00 a.m. on Sunday for the Future Astros parade on the field.
Saturday, May 20 vs. Cleveland Indians - 3:10 p.m.
Come to the ballpark early for the 10th annual Bayou Bash and experience the perfect way to kick off the summer! Fans with a May 20 game ticket will have access to Bayou Bash with crawfish, live music by Buck Yeager Band, cold beer, yard games and the first 1,000 attendees will receive an exclusive Bayou Bash slap koozie. Bayou Bash begins at 12:00 p.m. on Crawford Street between Texas Ave and Congress St and ends at 3:00 p.m. Entrances for Bayou Bash are located at Left Field Gate, Center Field Gate, and the Atrium. Fans will have the opportunity to explore the newly renovated Center Field area, including the Budweiser Brew House, Torchy's Party Deck, Shake Shack, as well as the new Saint Arnold Bar and the Astros Street Art Display, presented by PPG Paints.
Prior to Saturday's 3:10 p.m. matchup against the Indians, 10,000 fans will receive a Lance McCullers 'Glow in the Dark' Gnome presented by Nolan Ryan Beef. Please note, the giveaway will be available at Bayou Bash when doors open while supplies last for patrons as they enter.
On May 20, the Astros will be celebrating our nation's heroes with a special Military Appreciation Day presented by Whataburger. This is the fifth time the Astros and Whataburger have partnered to honor our brave service men and women with Military Appreciation Day. Joining in the festivities will be the United Services Organization (USO), Lone Star Veterans Association (LSVA) and active-duty military personnel, who received 1,000 complimentary tickets for the event. The day will kick off with a pregame ceremony featuring active-duty members of the United States military, who will present a giant American flag on the field. Technical Sergeant Brock Aaron Bell will throw out a ceremonial first pitch and receive free Whataburger for a year. Over the course of 16 years in the Air Force, TSgt Bell served in Korea, two tours in Afghanistan, Qatar and Ethiopia.
Additionally, the Astros Foundation, Phillips 66, and HISD are partnering to send the Literacy Bus to Hidalgo Park, an Astros Community Leaders park sponsored by Lexus. The Literacy Bus, a mobile interactive unit that will encourage family reading in Houston-area communities, will distribute books from 1:30 p.m. - 3:00 p.m. on Saturday at Hidalgo park, located at 7000 Avenue Q, Houston, Texas 77011.
Ever wanted to meet an FBI Special Agent? Fans can stop by Section 150 to meet and talk with an FBI recruiter to see if they have what it takes to join the FBI. The FBI is looking for a range of bright, talented and diverse Americans to fill special agent and professional staff positions. Recruiters from the Houston Police Department and Harris County Sheriff's Office will also be available to discuss opportunities. To learn more about career opportunities at the FBI, visit www.fbijobs.gov.
As a service to the community, FBI personnel and FBI Citizens Academy Alumni will be fingerprinting elementary and middle school children at the Community Outreach table, also located at Section 150. Instead of paper and ink, the FBI will have on hand the latest digital scanners to capture children's fingerprints electronically, and digital cameras to capture photographs. Once completed, cards with fingerprints and a photo will be provided to parents and guardians free of charge. While the hope is parents will never need the card, they have proven to be a valuable tool for law enforcement in the event a child goes missing. To learn about community outreach programs in the Houston area, visit: www.fbi.gov/contact-us/field-offices/houston/community-outreach-1.
Sunday, May 21 vs. Cleveland Indians - 1:10 p.m.
Prior to Sunday's 1:10 p.m. start, Houston Police Department Chief Art Acevdeo will throw out a ceremonial first pitch.
Create memories for the whole family at Minute Maid Park with Kroger Family Sundays, starting at just $60. The family-friendly package includes four Field Box IV or View Deck I tickets, four hot dogs, four sodas and access to Minute Maid Squeeze Play kids zone (ages 5-12), kids run the bases after every Sunday home game (ages 5-12) and a "My First Baseball Game" certificate at the Fan Accommodations booths at sections 112 and 323. For more information, please visit www.astros.com/family.
Make sure to get your little Astros fan signed up for the Coca-Cola Astros Buddies Club! Being an Astros Buddies member includes premium items, exclusive Buddies-only experiences, tickets to select Astros games, newsletters and more. Coca-Cola Astros Buddies memberships are for kids 12 and under. For more information on the Coca-Cola Astros Buddies Club, please visit www.astros.com/buddies.

The Proper Gentlemen of Sports
Want to know more about The Proper Gentlemen of Sports? Get their official bio, social pages & articles on SportsTalk 790!
Read more