Astros Promote Jeff Luhnow to President of Baseball Ops
HOUSTON, TX - The Houston Astros have promoted and extended the contract for General Manager Jeff Luhnow, Astros Owner and Chairman Jim Crane announced today.
Luhnow, who has been named President of Baseball Operations and General Manager, received a contract extension that carries through the 2023 season. Terms of the deal were not disclosed.
Astros owner Jim Crane announced Jeff Luhnow has been promoted to president of baseball operations. His contract has been extended through 2023.

— Jake Kaplan (@jakemkaplan) June 18, 2018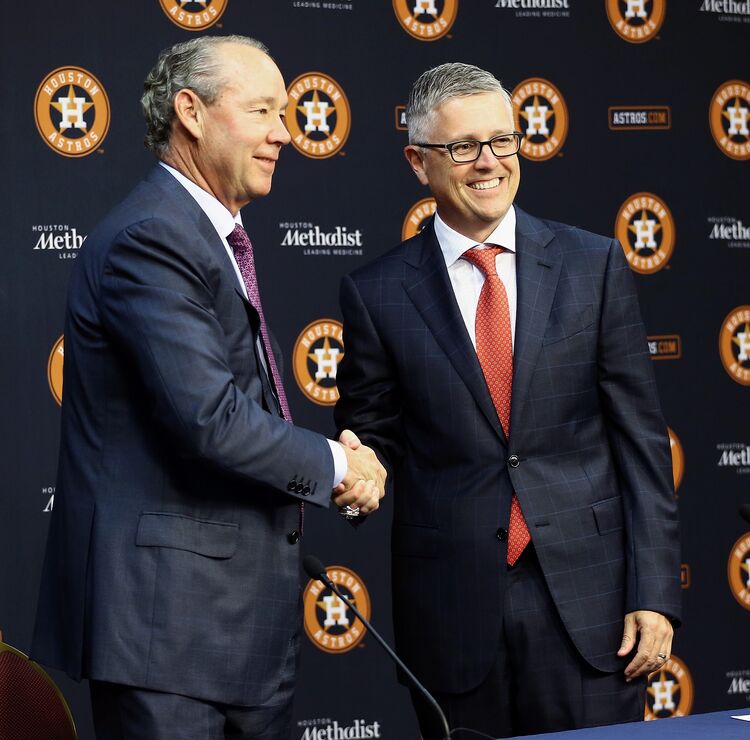 "This is very well-deserved," Crane commented. "Jeff has done an outstanding job in delivering on the vision that he outlined for us when we hired him several years ago. He was the architect for the Astros first World Series Championship, which was a historic achievement, not only for our franchise but for the entire city. Jeff's vision also included putting the Astros in position to compete for multiple championships. We have popular, exciting players, an energized fan base and a very bright future. We are excited that Jeff will be part of our future for a long time."
"I am excited and honored to be extending my commitment to this great organization and the City of Houston," Luhnow stated. "While we are proud of what we have accomplished in a short time, we are not done yet. I am thankful to Jim Crane and the organization for believing in me and I am grateful to all of the fans who have welcomed me and my family as we made Houston our home. Our goal remains the same – to do everything we can to bring multiple championships to our fans, this organization and the community."
Luhnow was hired by the Astros as the 12th General Manager in franchise history on Dec. 7, 2011, inheriting a club that had lost 106 games that season. Upon taking the job, Luhnow was clear about the path he had envisioned. His plan was to start by building the best minor league system in baseball through trades and the draft. Utilizing younger, homegrown talent would be a key to sustaining long-term success. By the 2014 season, just two short seasons after Luhnow took control, the Astros farm system had catapulted into being ranked as one of the best in baseball by virtually every sports media outlet. The Major League club was also showing improvement by 2014, as that season's Astros team won 19 more games than in the previous season.
Luhnow's plan also included complementing a young Astros roster with established veterans once the club became competitive. In 2015, the addition of key veterans through trades and free agent signings played a major role in the Astros earning their first playoff berth in 10 seasons. Luhnow also hired AJ Hinch as manager prior to the 2015 season, another decision that would be a key to the club's success. In the 2015 AL Wild Card Game, Houston earned a dramatic victory over the Yankees at Yankee Stadium before being eliminated by the eventual World Series Champion Royals.
In 2017, Luhnow crafted a roster that had just the right blend of veteran leadership (Carlos Beltrán, Brian McCann, Charlie Morton, Josh Reddick, Justin Verlander) to go along with some the brightest young stars in the game (Jose Altuve, Alex Bregman, Carlos Correa, Lance McCullers Jr., George Springer), with the end result being a World Series title for the Houston Astros. For his efforts, Luhnow was named the 2017 MLB Esurance Executive of the Year.
In 2018, the Astros are once again in the thick of the playoff race, occupying first or second place in their division for virtually the entire season to this date. Due in large part to Luhnow's offseason acquisition of Gerrit Cole, the Astros have had the top starting rotation in baseball this season and lead the Majors in overall ERA. Matt Thomas
"The Matt Thomas Show" airs noon-3 p.m. daily on SportsTalk790 (790 AM and 94.5-2 HD)
Read more