The American Names Five from UH to Postseason Team
HOUSTON – The American Athletic Conference announced its postseason honors Wednesday and Houston defensive tackle Ed Oliver, linebacker Austin Robinson and receiver Marquez Stevenson led the way with first team honors.
Quarterback D'Eriq King, who took only 10 games to break The American's single-season touchdown responsible for record, earned second-team honors, while offensive lineman Mason Denley earned honorable mention honors.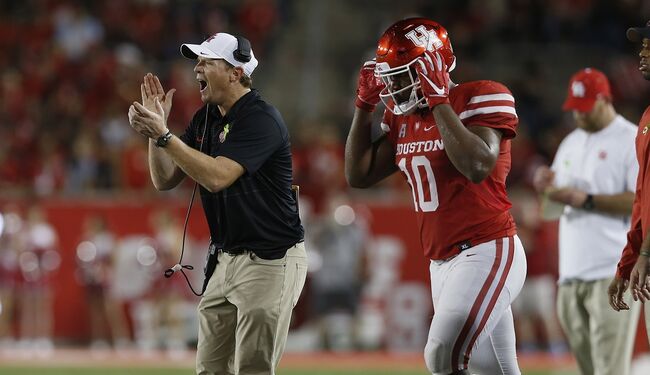 Ed Oliver | DT | Jr. | First Team All-Conference
Earned First Team All-Conference honors for the third consecutive year, the first player in UH history to earn First Team All-Conference honors three times.
No. 5 nationally and No. 2 in The American with an average of 1.81 tackles for loss per game this season.
Led all defensive linemen in The American with an average of 6.75 tackles per game.
No. 6 in The American with 14.5 tackles for loss despite only playing in eight games.
Led Houston defensive linemen with 54 tackles on the year.
Finished the year with 54 tackles including 14.5 tackles for loss and three sacks in only eight games. Also had two pass breakups, one forced fumble and nine quarterback hurries.
Austin Robinson | LB | Sr. | First Team All-Conference
Led The American with 116 tackles on the year.
No. 2 among linebackers in The American, and No. 5 regardless of position, with six sacks.
No. 9 in The American with 13 tackles for loss.
Had at least 10 tackles in four games this season including a career-high 21 at Navy.
Finished the year with 116 tackles including 13 tackles for loss and six sacks. Also had five pass breakups, two forced fumbles and one fumble recovery.
Marquez Stevenson | WR | So. | First Team All-Conference
Finished second in The American with 10 touchdown receptions on the year.
Was third in the league with 5.6 receptions per game and fifth with 947 receiving yards.
Had over 100 yards receiving in a league-best five games this season.
Finished the year with 67 receptions, 947 yards and nine touchdowns while rushing 11 times for 121 yards and two scores. Also added seven kick returns for 142 yards and three punt returns for 22 yards.
D'Eriq King | QB | Jr. | Second Team All-Conference
Took only 10 games to break The American's single-season record for touchdowns responsible for, finishing with 50 before a season-ending injury in week 11.
Despite missing Houston's final game, King ended the regular season leading the nation in points responsible for (302) and points responsible for per game (27.5).
Ranks No. 4 in passing touchdowns with 36, No. 6 in pass efficiency with a rating of 167.0, No. 8 in total offense with 332.4 yards per game, No. 13 in rushing touchdowns with 14 and No. 17 in passing yards per game at 271.1.
Finished the year with 2,982 passing yards and 36 touchdowns against six interceptions on 219-of-345 passing. Added 111 rushing attempts for 674 yards and 14 touchdowns along with one reception for 12 yards.
Became only the 13th FBS QB with 400+ yards passing and 100+ yards rushing in a game with his performance against USF.
The only Houston quarterback to throw for at least 300 yards and rush for 100 yards in a game, twice in a season.
Had a rushing touchdown in all 11 games, holding the nation's longest active streak for games with a rushing touchdown.
One of only two quarterbacks in FBS history with at least 35 passing touchdowns and at least 14 rushing touchdowns in a season.
Mason Denley | OL | Sr. | Honorable Mention All-Conference
Started 11 of 12 games at left guard, missing one with an injury.
Helped lead a Houston offense that ranked No. 7 nationally in total offense, No. 12 in passing offense and No. 20 in rushing offense.
Totaled 880 snaps on the year, grading out at 96 percent with 37 knockdowns.
-- UHCougars.com --

Matt Thomas
"The Matt Thomas Show" airs noon-3 p.m. daily on SportsTalk790 (790 AM and 94.5-2 HD) with in-depth analysis on Houston sports including the Astros and the Rockets!
Read more