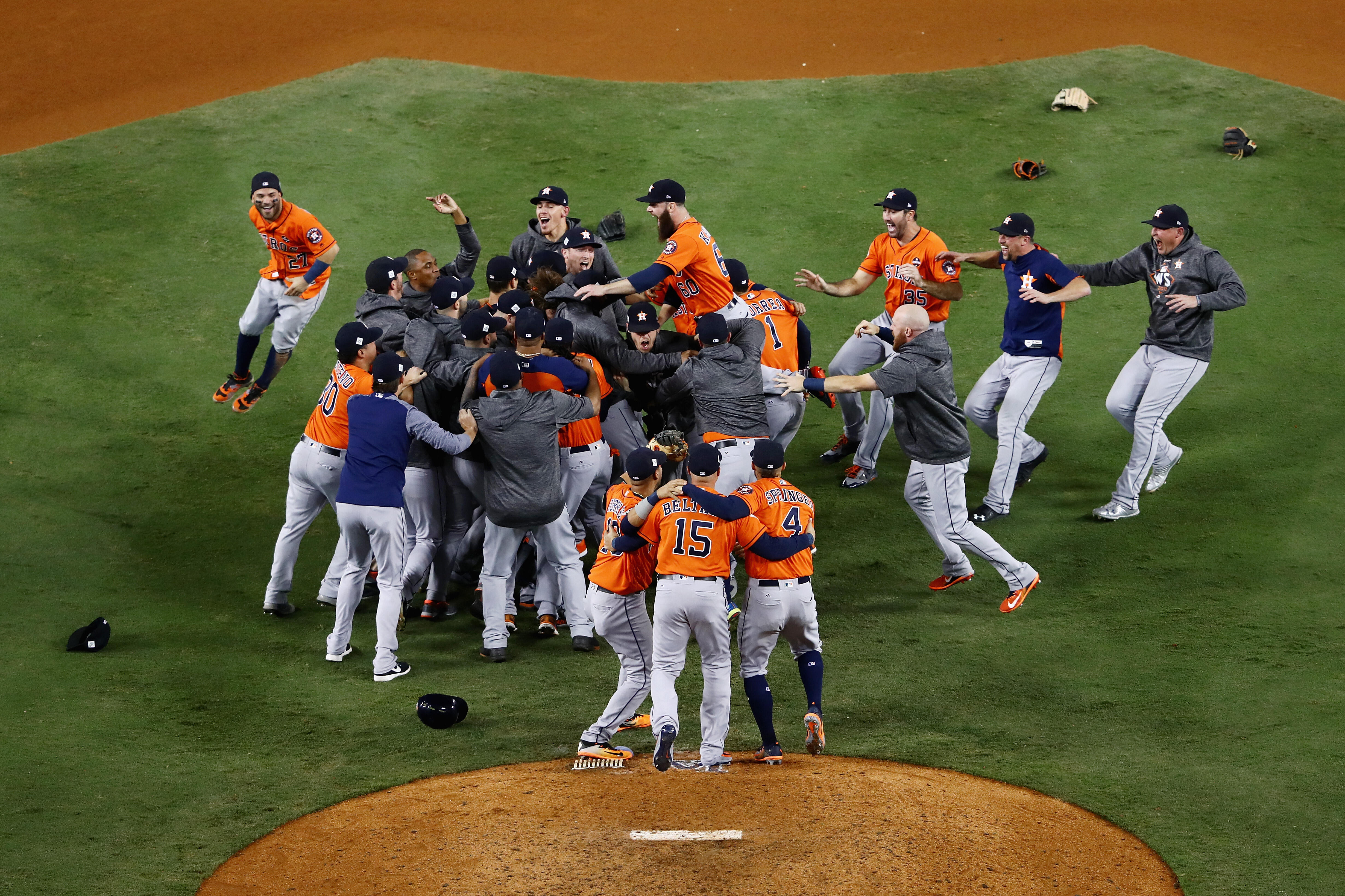 For a place not known for its winning sports tradition, Houston is on a bit of a heater.
Your Astros are 2017 World Series Champions. The Rockets are in sole possession of first place in the Western Conference. The Texans have a franchise quarterback. Even the Dynamo are in the MLS Western Conference Championship round.
That definitely qualifies as a heater. Is this what being a sports city feels like?
The truth is I couldn't tell you because I was too young to even remember the last time Houston won a major title. Here's what I can tell you - Houston sports are cool right now for the first time in a long time and it's hard to not get a little excited at the chance it could be this way for at least a few more years.
With so much excitement going on the timing felt right to launch this "Water Cooler Playbook" concept. Keep up with the madness every week right here and feel free to use any info you see here next time you're talking sports at the water cooler.
I Repeat: the Astros are champions
I don't think we will ever get tired of reading/seeing/hearing that. It is all still so surreal that I have to relive Robert Ford's call at least twice a day just to remind myself it really happened. MLB player movement is about to shift into overdrive with the dawning of this year's "hot stove" season. As the focus shifts from World Series match-ups to which relief pitchers the Astros should pursue, it's important not to get caught up in the talk of the Astros building a dynasty and to simply soak in the 2017 victory as long as possible.
Houston waited over 55 years for a World Series title. Who knows when it will come again. Don't take it for granted by assuming this young exciting team will stay together forever. Don't get me wrong, they might. They just as easily might not.
Don't think of this as a cautionary tale but rather a reminder that what the Astros just accomplished was so special that to assume it will happen again and again discredits how hard it was to capture for the first time. Soak it in now. Worry about dynasties later.
How are the Rockets thriving without Chris Paul?
Who would've thought when the Astros finally get over the hump, Houston would wake up to a first place basketball team the next week?
After acquiring Chris Paul in a trade this past summer, the Rockets were one of the most hyped teams entering the season. About a month in, Paul is yet to make an impact due to injury yet the Rockets are still in first place. Of course James Harden is off to another MVP-caliber start - including an NBA record five straight games with six or more three-pointers made - but the biggest reason for the Rockets' 11-3 record so far is a star-sized leap by center Clint Capela.
Look no further than last week's prime time 117-113 victory over the Cleveland Cavaliers where Capela effectively sealed the game with a sequence that included:
1.) A psychic-connection alley oop from James Harden
2.) A savage game-sealing block of none other than Mr. LeBron James
Capela simply had a coming out party on TNT last week. While Harden was brilliant in the game notching a triple double, it was Capela who was the only Rocket to score in the final 6:45 and poured in 11 points and seven rebounds in the final quarter to clinch the victory.
His improved free throw shooting - up to 70% from 53% last year - enables him to be more aggressive under the basket. The results? Career averages across the board of 13.3 points, 11.5 rebounds, 1.9 blocks on a league-leading 69.6% from the field.
With the Rockets hoisting threes at a rate never seen before (over half of their shot attempts come from distance) Capela's development gives them an anchor both defensively and offensively in the paint - an element of balance sorely missing from past teams. With a soft month on the schedule ahead and Paul's return to the lineup looming it's reasonable to think the Rockets will get even better as the season goes on.
The Texans make us sad
Wake me up when Deshaun is back.
Until then the only football I'm watching is the Dynamo, who just knocked off the defending champion Seattle Sounders and line up for a Western Conference Championship showdown with the Portland Timbers starting next Tuesday.
Scoff if you want but if the Dynamo pull it off that'd be two championships in as many months for Houston. That would definitely be a first.