10 Worst Free Agent Signings in Houston Sports History
It sounds like the odds are very good that Carmelo Anthony's run as a Houston Rocket is finished after just ten games played. They took a risk on a guy that plays no defense and had his worst year of his career last season. But that risk was not huge given that it only cost them 2.5 million this season to sign him. So for this list, I will leave him off of it. If his days are done in Houston, Carmelo would slide into this list of the 10 worst free agent signings in Houston sports history. Given the low cost to sign him, he would be on the back end of it. For me, these are the 10 worst free agent signings our city has seen. I know you will read this and think of other players that landed here that were terrible, but this list is strictly free agents that signed here.
1. 2016- Texans Sign Brock Osweiler The Contract: 4 years, 72 million with 37 million guaranteed
Brock will probably never be topped on this list. He was a disaster on the field. At the podium, he was a gift for the world of radio, spitting out coach speak so hot that it burned our faces off. We give Bill O'Brien so much bleep at times, it really is amazing to think he was able to win the AFC South with this dude as his quarterback. It took dumping a second round pick to get rid of him and trading a future first to fix the mistake and draft Deshaun Watson. Congratulations, Brock, you will forever be the fist man we think of when it comes to the worst free agent decision a team in Houston has made. I'm guessing HEB would like their money back too.
2. 2013- Texans Sign Ed Reed
The Contract: 3 years, 15 million with 6 million guaranteed
Another gift from the radio gods, not the gift the Texans for some dumb reason thought he would be. Another great example of the Texans signing a player because they thought his past of being on a team that once beat the Patriots would put them over the top. His hips did not lie...he could not move anymore on a football field as he lasted just seven games. The only highlights from his stay was that it spawned the Coach Reed segments we once did and the story that he had a bag full of cash stolen from his car. An all-time great, forever an all-time horrible free agent signing in Houston sports history.
3. 2006- Astros Sign Carlos Lee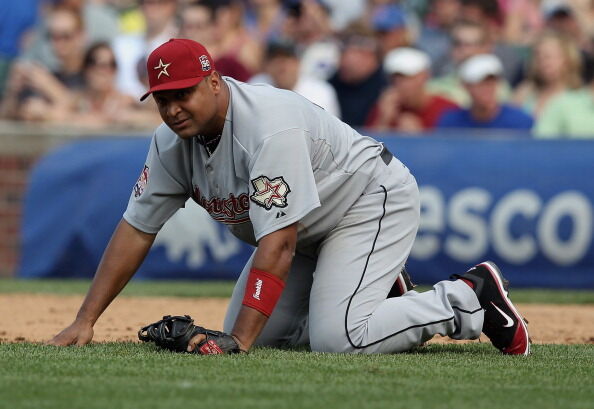 The Contract: 6 years, 100 million
From a production standpoint, the first three seasons of the deal were not all that bad. Let's go back and look at them real quick.
2007 (NL All-Star): 162 G, .303 BA, 32 HR, 119 RBI, .354 OBP, .528 SLG, .882 OPS
2008: 115 G, .314 BA, 28 HR, 100 RBI, .368 OBP, .569 SLG, .937 OPS
2009: 160 G, .300 BA, 26 HR, 102 RBI, .343 OBP, .489 SLG, .831 SLG
Those are really good numbers and if his 2008 season was not cut short thanks to taking a pitch off his hand in a game against the Reds, it might have been the best year of his career. But with all of that said, the next three years were not good as he continued to...well...grow. In the stomach area. While he was a very accomplished big league hitter, looking back on it, signing him to that deal out of desperation was just not good.
4. 2005- Rockets Sign Stromile Swift The Contract: 4 years, 22 million
One of those potential guys. A dangerous word when you're handing out millions. Young and an athletic freak, it felt like he was a great fit for the Rockets core of Tracy McGrady and Yao Ming. It was pretty clear after just a couple games that he was not going to be one of those guys that suddenly finds that potential everyone thought was there. After just one season in Houston, the Rockets sent him back to the Grizzlies with their draft pick, Rudy Gay, for a guy that would become an all-time fan favorite in Shane Battier.
5. 2007- Texans Sign Ahman Green The Contract: 4 years, 23 million with 6.5 million guaranteed
Another great example of how dumb it is to sign a running back that is 30 or older. Green somehow last two years in Houston, playing just 14 games. In those 14 games he totaled a whopping 554 yards on 144 carries, averaging just 3.8 yards per attempt. He has to appreciate the Texans for signing Brock Osweiler and Ed Reed, resulting in him being pushed down this list.
6. 2016- Texans Sign Rahim Moore
The Contract: 3 years, 12 million
This did not go well. Moore lasted one season in Houston, playing in just seven games, was a healthy scratch for the majority of his time in a Texans uniform.
7. 2007- Astros Sign Kaz Matsui
The Contract: 3 years, 16.5 million
His first season in Houston wasn't horrible, but the rest of his time here was. You can probably sum up his tenure in Houston with one word...fissures.
8. 2008- Texans Sign Jaques Reeves
The Contract: 5 years, 20 million
He lasted two years and it was a very forgettable two years. His time in Houston made Kareem Jackson's rookie year look like a pro bowl season.
9. 2016- Rockets Sign Ryan Anderson
The Contract: 4 years, 80 million
Anderson was one of many that benefited in the NBA salary cap spike. There is no world where he should have been signing with anyone for a max level deal at the time, but that is just what the market forced the Rockets to do. Unfortunately, the Rockets might have been better off with him on the team right now.
10. 2012- Rockets Sign Jeremy Lin
The Contract: 3 years, 25 million
Lin was not horrific with the Rockets. He just cashed in on Linsanity and the Rockets were a bit desperate at the time. Turnovers are unfortunately the thing he will be remembered for here.

Sean Salisbury
Sean Salisbury is a longtime sportscaster who has covered the Houston market for many years talking Texans, Astros, Rockets & much more. He has worked as an TV analyst for ESPN shows like NFL Live & SportsCenter, and served as both an NFL & CFL...
Read more