Five Storylines to Watch in the Absence of James Harden
There's no other way to spin it: The loss of James Harden for two-plus weeks with a Grade 2 strain of his left hamstring is going to hurt. Not only is Harden the league's current MVP frontrunner with averages of 32.3 points and 9.1 assists per game, but he's been remarkably durable over the course of his six seasons in Houston – including 81 or more games played in each of the past three full seasons.
Ultimately, that good luck may have finally run out for Harden and the Rockets, who now have to navigate an extended period without their franchise player for the first time since his arrival in October 2012.
Despite this, there are some limited silver linings that Houston may be able to take out of the situation. Here are my initial takeaways on the leading storylines to watch in the Harden-less weeks ahead: 1.) How elite is Chris Paul? We're about to find out. The Rockets are 16-2 in his 18 starts thus far, with Paul averaging 17.2 points and 8.9 assists in just over 31 minutes per game. As usual, his efficiency (46.0% FG, 39.8% three-point FG, 25.0 PER) is even greater than the traditional numbers would suggest.
Nonetheless, Paul has already missed 17 games due to injuries, he turns 33 in May, and he's due for a new contract this summer. Is he worth the five-year, $200+ million deal he'll be eligible to receive? Most players at that age are not, but Paul has long defied the traditional NBA aging curve, and his advanced numbers this year have yet to show any slippage. Even so, there are a few extenuating circumstances. When Paul plays alongside Harden, as he does for at least half of his minutes, Harden has typically commanded the most attention from opposing defenses – allowing Paul to shine in a secondary role with reduced usage. And the majority of Paul's minutes without Harden have come early in the second and fourth quarters of games, largely against bench players from opposing teams.
Will Paul remain dominant as the undisputed No. 1 option against opposing starters for the foreseeable future, and can he stay healthy and fresh with the added workload? For a franchise mulling whether to give him the full max this summer, it can't hurt to find out. 2.) There's little to suggest Harden was or will be overused. Coming off the playoff loss to San Antonio a year ago with a seven-man rotation after losing Nene, one popular narrative among Rockets fans is that coach Mike D'Antoni deserves at least some of the blame for Harden's injury for overextending him. The data, however, shows different. Harden's 36.3 minutes per game average is the lowest of any of his six years in Houston, and he's only played 40 or more minutes in five of his 35 games. His minutes are being closely monitored.
The simple truth is that injuries such as a hamstring pull can happen to anyone when playing basketball at the highest level. For Golden State, Kevin Durant averaged just 33.4 minutes per game last season, and he missed over a month with a knee injury. Stephen Curry is only playing 32.3 minutes per game this season, and he has already missed 11 games with an ankle injury. In San Antonio, Kawhi Leonard missed the first 27 games with an ongoing quadriceps injury and is still not fully cleared to play his usual starter's minutes or on back-to-backs… and that's despite the fact that Gregg Popovich has yet to play Leonard more than 33.4 minutes per game in any season of his career! Injuries happen to anyone and everyone, and it's often sheer randomness rather than the product of poor management. The Rockets have largely been lucky with the 28-year-old Harden over the course of his six seasons here, but he was due for one of these.
There's also nothing to suggest that the Rockets will rush his return. While Harden is notorious for playing through bumps and bruises, that's historically been with injuries such as last week's bruised knee that are unlikely to be made worse by playing. With a Grade 2 hamstring pull, it's a muscular injury that can be made worse if he returns too early – and there's no reason to believe the Rockets won't treat an injury to their franchise player with the seriousness it deserves. Though Harden will be re-evaluated in two weeks, the odds are that it will be at least three weeks before he returns – because his activity for the next two weeks will likely be limited to rest and platelet-rich plasma (PRP) therapy. Two weeks is the minimum before Harden can even begin strenuous physical activity, and the Rockets will likely require Harden to slowly ramp up his conditioning and test the hamstring over several days before considering a return to game action.
In the long run, the weeks off might actually make Harden fresher in the 2018 postseason than he was in 2017, when he and many other Rockets seemed to fatigue in the second round against San Antonio.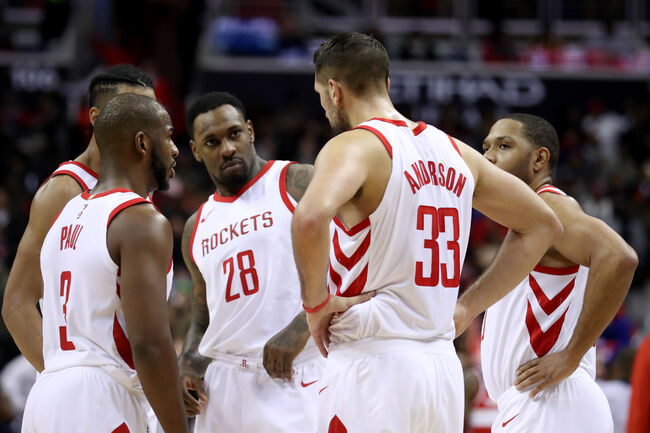 3.) The schedule is friendly for the next two weeks. Another possible silver lining for Houston is that the recent murderer's row stretch of Oklahoma City, Boston, and Washington all on the road – with the latter two on a back-to-back – is over. Excluding Thursday's matchup with the Warriors, which now looks like a loss, Houston's games over the next two weeks include Orlando (12-26), Detroit (20-15), Chicago (13-24), Portland (19-17), Phoenix (14-24), and the Los Angeles Clippers (16-19). While no games without Harden should be considered guaranteed wins, it's certainly not an unmanageable stretch. 4.) Eric Gordon and Gerald Green can step up. The obvious takeaway from Harden's absence is the aforementioned promotion of Paul to the role of No. 1 option. But the majority of his 36 minutes each night will actually be filled by increased playing time (and usage) for the likes of Gordon and Green. Gordon will take Harden's place in the starting lineup, and he's doing so on something of a hot streak. In Houston's last 11 games, Gordon is scoring 20.9 points in 34 minutes per game – with shooting figures of 48.2% from the field and 42.0% from behind the arc. He had slumped over the month prior, but Gordon is clicking now as he likely regains his spot in the starting lineup.
Meanwhile, Green -- the newest Rocket -- has poured in 14 points in 24.5 minutes over his past two games, including 10-of-17 (58.8%) from the field and 6-of-10 (60.0%) from distance. Unlike when Paul missed extended time earlier this season, D'Antoni now has a third veteran perimeter option that he trusts in the absence of one of his star guards, rather than just two. 5.) Start tracking the Spurs and Timberwolves. With nine losses, the Rockets are technically only one game behind the Warriors in the all-important loss column in the battle for the West's No. 1 seed. At the moment, they even hold the tiebreaker. However, Houston besting Golden State over 82 games was always unlikely based on the superior depth of All-Star talent on the Warriors' roster (Durant, Curry, Draymond Green, Klay Thompson). In short, Golden State has more insulation for inevitable injuries that occur over the 82-game marathon – such as Curry's last month and the current one for Harden.
The best chance for the Rockets against Golden State is to get fully healthy by the postseason and hope their shooters are hot over the smaller sample of a best-of-seven series, even without home-court advantage. To earn that opportunity in the Western Conference Finals, however, the Rockets need to do what they couldn't do a year ago – which is secure the West's No. 2 seed and home court through the second round. Last year, they didn't – and the Spurs took the series-changing Game 5 from the third-seeded Rockets in large part on the back of their home fans.
This season, the Rockets (+8.4 point differential) look much better on paper than the Spurs (+3.1) or Timberwolves (+2.7). However, those teams only trail Houston by three and five games, respectively, in the loss column. That's hardly an unmanageable deficit if the Rockets go into a funk in the weeks ahead without Harden.
That shouldn't happen, of course. Led by the likes of Paul, Gordon, Trevor Ariza, and Clint Capela, the Rockets are still a very talented team – even with Harden missing. On a short-term basis, it wouldn't shock me at all if the Rockets actually overachieve, given the mature and stabilizing presence of many of those veterans. It's a proud locker room.
Nonetheless, whether they admit it or not, most understand that their best chance for the No. 1 seed has come and gone with Harden's injury. In response, it's important they mentally turn the page as quickly as possible and begin rebuilding the buffer between themselves and the Spurs/Timberwolves that partially eroded during the recent five-game slide. There's still plenty to play for, even if we concede that the No. 1 seed is likely off the table. Talking Rockets w/ Ben DuBose
Want to know more about Ben DuBose? Get his official bio, social pages & articles on SportsTalk 790!
Read more