Buzzer-Beater Sends Michigan Past Houston
WICHITA, Kan. (AP) Michigan's Jordan Poole sank a 3-pointer at the buzzer to lift the Wolverines to a 64-63 win over the University of Houston Men's Basketball program on Saturday night inside INTRUST Bank Arena in Wichita, Kan.
Rob Gray scored 23 points and Davis finished with 17 for the sixth-seeded Cougars (27-8), who were trying to reach their first Sweet 16 since the last of the Phi Slama Jama teams in 1984.
They just about did it.
Davis gave the Cougars the lead when he made two free throws with 44.1 seconds left, then pushed the advantage to 63-61 when he made the second of two more foul shots with 24.9 seconds to go.
Abdur-Rahkman and Charles Matthews came up empty at the other end for Michigan. Davis pulled down a crucial rebound, and then stalked to the foul line.
The senior forward missed both.
''It's hard to put into words,'' Gray said. ''I felt like we had the game won.''
The down-to-the-wire outcome was hardly surprising given the way the rest of the game went. There were 17 lead changes and 12 ties, including 28-all at halftime.
After his huge performance against San Diego State, the Wolverines were wary of Gray every time he touched the ball. They blanketed Houston's star on the perimeter, cut off lanes to the basket and held him to just eight points on 2-for-11 shooting in the first half.
Whistles became constant as the second half wore on, and both teams soon found themselves in foul trouble. Wagner picked up his fourth with 8:43 to go, and Breaon Brady soon took a seat with his fourth for Houston, as the game turned into a glorified free-throw shooting contest.
Michigan converted eight straight at one point to take a 57-53 lead with 3:42 to go.
Armoni Brooks answered with a 3-pointer, and Davis converted a three-point play after fouling the Wolverines' Duncan Robinson out with 2:06 left, giving the Cougars a 60-59 lead.
Wagner answered with a putback basket for Michigan with 1:41 left, but after the teams swapped 3-point misses, Davis grabbed a crucial rebound and made two foul shots to give Houston the lead.
''It's March Madness. It's bigger than basketball,'' Gray said. ''Those guys in the locker room, I'm super proud of them. I'm just glad we had this opportunity to come play in March.''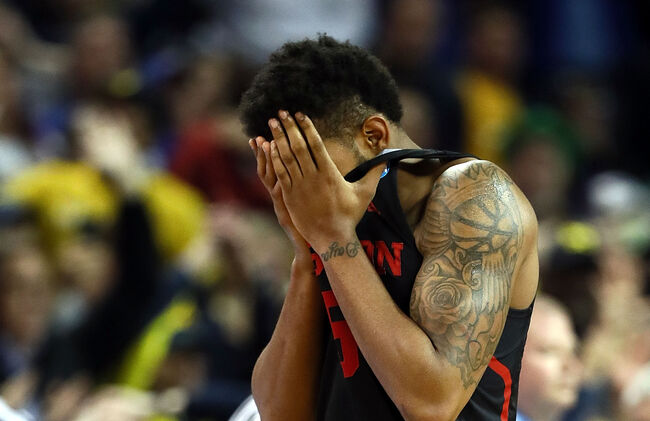 Matt Thomas
"The Matt Thomas Show" airs noon-3 p.m. daily on SportsTalk790 (790 AM and 94.5-2 HD)
Read more